In a shocking casting coup for As The World Turns, the show's Emmy winning executive producer Christopher Goutman has revealed that Roger Howarth (ex-Todd Manning, One Life to Live) will be joining the show.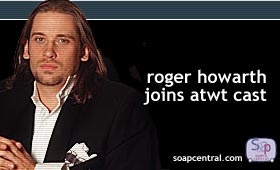 "We are thrilled to have an actor of Roger's caliber join our cast," said Goutman in a statement. "His intensity and humor bring a whole new dynamic to Oakdale and wherever he goes, fireworks are sure to follow!"
Howarth won the Daytime Emmy for Outstanding Younger Actor in 1994. Howarth joined the cast of ABC's One Life to Live in 1993, but he made a series of exits over the next 11 years - first in 1995. He returned in 1996 before leaving again in 1998. His most recent returned to the fictional town of Llanview was in June 2000, however, he took a temporary leave last summer before leaving "permanently" in February.
Industry insiders have claimed that Howarth became restless when his One Life to Live character seemed to be becoming one of the good guys. Howarth had a difficult go of things in his early days on the soap when his character was involved in a rape storyline. Fans reportedly would called out to the actor on the street asking that they sexually assault them. The situation was said to have left Howarth extremely uncomfortable -- leading to his first exit from the show.
Early buzz is that Howarth will play opposite Cady McClain (Rosanna Cabot; ex-Dixie Martin, All My Children) another Emmy winner lured from an ABC soap to CBS's As The World Turns.
A first airdate for Howarth on As The World Turns has not yet been announced.