What is your reaction to the news that Sarah Brown is exiting ATWT?

I thought Brown was a good actress, but I disliked Julia.
54%
I'm glad. I really didn't care for her work as Julia at all.
24%
I'm upset. I really enjoyed what Brown brought to ATWT.
15%
I'm not surprised. Her stay was said to be only short term.
5%
I don't really have an opinion one way or another.
2%
Other
1%
Poll Posted: January 4, 2005
When three-time Emmy winner
Sarah Brown
(Julia Larrabee) signed on for a short-term engagement with CBS's As the World Turns last summer, she probably never anticipated the amount of fan ire that her new role would generate.
Brown, who won three consecutive Daytime Emmys in 1997, 1998 and 1999 for her work as Carly Corinthos on ABC's General Hospital, stunned daytime viewers by announcing in 2001 that she was leaving the world of daytime television. Since that time, the actress has found limited success in primetime television despite landing numerous guest appearances on some of the top-rated nighttime dramas.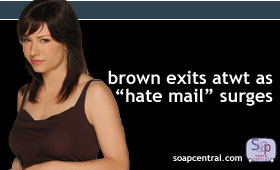 So when Brown announced that she would return to daytime television in May 2004, many fans of her work on General Hospital were anxious to see her back on the small screen. Brown's new role, however, angered many As the World Turns loyalists. The first bit of confusion for fans - perhaps intentional on the part of the show's execs - was the name of Brown's character: Julia. As the World Turns already had a character named Julia, but Brown's character would turn out to simply share the same name - not DNA - with the other Julia. But the two Julia's did have something else in common: both wanted to come between Jack Snyder and his love interest, Carly Tenney.
According to published reports, some As the World Turns fans wrote threatening letters to Brown, warning her to stay away from "Jack." Regrettably, it appeared that these fans had blurred the line between reality and fiction. Soap Central has also received a substantial volume of email expressing fan displeasure in the one-time Jack and Julia pairing.
Word circulated in November and December that Brown would stay beyond her initially agreed upon six-month stay. However, Brown quickly dispelled the rumors, saying that she had no intention of sticking around in Oakdale. Due to the show's taping schedule, Brown is expected to air through February and possibly early March.
Now, however, Brown has another batch of rumors to deal with - her supposed return to General Hospital.