Gaskill's Character Gets Name, Debut
by
Dan J Kroll

Posted Sunday, July 10, 2005 5:28:45 PM

As previously reported by Soap Central, soap vet Brian Gaskill will join the cast of As the World Turns later this month. Until just recently, the character did not have a name and a first airdate was not available. Gaskill will play the role of BJ Green, a former schoolmate of Terri Colombino (Katie Peretti Coleman). It had been widely speculated that Gaskill's character would be a potential love interest for Katie.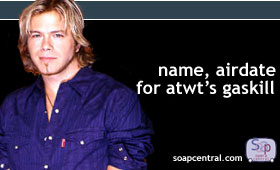 Over the past decade, Gaskill has earned a sizeable fan base through appearances on three popular daytime dramas. He has appeared as Bobby Warner on ABC's All My Children, Rafe Kovich on Port Charles and most recently as Oscar Marone on The Bold and the Beautiful.

Gaskill makes his As the World Turns debut on September 27th.