Should ATWT recast the role of Rosanna Cabot?

Yes. Rosanna is a great character and needs to be back on the canvas.
39%
If ATWT can convince Yvonne Perry to return, then Rosanna should return.
33%
No. I don't think I can accept anyone other than McClain as Rosanna.
14%
Maybe at some point, but I think ATWT needs a 'Rosanna break' right now.
8%
It doesn't matter to me what ATWT decides to do with Rosanna.
3%
No. I don't care for Rosanna and don't want to see her back in Oakdale.
2%
Other
0%
Poll Posted: March 12, 2006
Rumors are making the rounds that As the World Turns is in the initial stages of recasting the role of
Rosanna Cabot
. The role was most recently portrayed by Emmy-winning actress
Cady McClain
.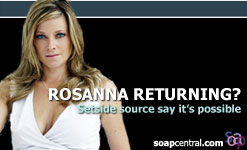 Fans first started to get an inkling that the character might be returning when, in recent weeks, the character's name seemed to be on everyone's lips. Typically, that has been a tool used by various soap operas to ready the canvas for the return of an off-screen character. Of course, that is not always the case.
McClain stunned the soap world by joining the As the World Turns cast in April 2002, nixing a return to her Emmy-winning role as Dixie Martin on ABC's All My Children. Her stint on ATWT was to have been a short-term, recurring role. However, the actress ended up seeing more on-screen time than many of the show's veteran contract players. McClain did eventually end up on contract, but the actress dropped back to recurring in early-2005 before exiting the show for good on July 29, 2005.
McClain has since returned to All My Children.
The only other actress to previously hold the role of Rosanna was Yvonne Perry, who appeared on the CBS soap from 1992 through 1999.
A spokesperson for As the World Turns reminds Soap Central that it is not show policy to discuss casting rumors.

RELATED STORYCady McClain returns to All My Children.