Over the past few months, As the World Turns' writing team has been carefully playing its cards and devising a way for Craig Montgomery to return to Oakdale. Viewers have long speculated that Craig's return was imminent. However, these same fans may not have expected that the show has also been devising a way to recast the part.
Multiple-Emmy nominee Hunt Block is the most recent performer to hold down the role of Craig. Block joined the cast in July 2000 and remained with the show through August 2005. Block, a favorite with fans and critics, was dismissed for what the show called "storyline reasons." Unofficially, some setsiders hinted that the show needed to trim its budget.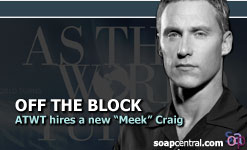 Those same sources say that Block had been approached by network execs about a possible return to show, but Block was reportedly still miffed by his firing and declined to return. Block, meanwhile, is dating his former ATWT co-star Cady McClain (ex-Rosanna Cabot; Dixie Martin, All My Children)
The show instead opted to place a newcomer in the role. Jeffrey Meek returns to daytime television after a four-year break to tackle the role. Meek previously appeared on Search for Tomorrow and General Hospital. While his GH role was that of a day player, Meek enjoyed a two-year run on Search for Tomorrow as Quinn McCleary from 1984 to 1986.
A third performer, Scott Bryce, appeared as Craig from 1982 through 1994.
A first airdate for Meek has not yet been made available, though it is expected this fall.