As hinted previously by Soap Central, the arrival of Henry Coleman's mom, Audrey, in Oakdale will soon bring about the appearance of some of Henry's other family members. After all, he does have seven sisters. Now that actress Lynn Herring's (Audrey) term on As the World Turns has been extended, expect more interaction between Audrey and at least some of her kids.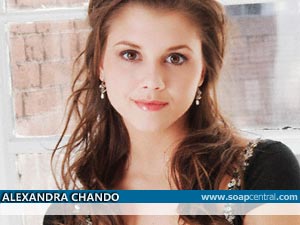 Emmy-nominated Alexandra Chando (Maddie Coleman) will return to As the World Turns later this summer. It will mark the actress' first appearance in two years -- but not Maddie's. Kelly Barrett appeared as Maddie in a handful of episodes earlier this year.
Chando left As the World Turns in 2007 -- just months after being nominated in the Outstanding Younger Actress category at the Daytime Emmys -- because the show's writers felt that they could not develop any new story for her character.
Since leaving As the World Turns in October 2007, Chando has been busy working on an online series called Rockville CA. Rockville CA follows a diverse group of twentysomethings who gather regularly at a fictional Los Angeles club to hear their favorite up-and-coming bands and blow off steam.
Chando will return to daytime on Thursday, September 24.