She hasn't yet aired, but already Lynn Herring's (Audrey Coleman) stay in Oakdale has been extended. According to a published report, Herring will be in the swim of things through the fall, and she will share scenes with some very familiar faces.
In June, As the World Turns announced that it had scored a major casting coup by luring Herring out of her self-imposed retirement. The long-running CBS soap revealed that Herring had been cast as Audrey, the grifter mom of Henry Coleman. Herring's time in Oakdale, which begins this week, was originally scheduled to last about seven weeks.
However, the New York Daily News reports that "[s]he will now air through the fall and share scenes with former General Hospital husbands Jon Lindstrom and Stuart Damon."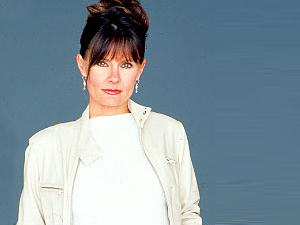 Indeed Oakdale is looking a lot like the Port Charles of old. As the World Turns announced three weeks ago that it had signed Herring's former General Hospital castmate, Stuart Damon. Lindstrom, meanwhile, assumed the role of Craig Montgomery in December 2008.
Earlier this year, Herring expressed her disappointment that she had never been asked to return to General Hospital, a show on which she appeared as Lucy Coe for nearly 20 years.
To celebrate her return to daytime television, Herring rang the opening bell at the New York Stock Exchange on June 25.
Herring makes her As the World Turns debut on July 27.



Lynn Herring "disappointed" GH didn't ask her to return.