According to published reports, Austin Peck (Brad Snyder) has been released from his contract with As the World Turns. The actor joined the cast of the CBS soap in January 2007.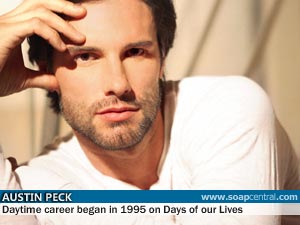 In a posting on its Twitter page, CBS Soaps In Depth tweeted, "Holy crap. ATWT isn't confirming it, but we hear Austin Peck (Brad) has been let go."
While Peck is popular with fans, his star power may come at a hefty price. As the only remaining Procter & Gamble-produced soap left in active production, As the World Turns is under increasing pressure to raise its ratings and slash its budget. In fact, the show has recently been the subject of cancellation talk.
Prior to joining As the World Turns, Peck earned legions of fans for his work as Austin Reed on NBC's Days of our Lives. The actor joined the show in 1995 and became one-half a popular pair with actress Christie Clark (Carrie Brady). Peck's most recent appearance on Days of our Lives wrapped up in October 2006.
An As the World Turns spokesperson would not comment on the report of Peck's ouster.
Photo: Bleacher & Everard/PGP