The Days of our Lives cast continues to shrink. This time, Soap Central has learned that the recently returned Austin Peck (Austin Reed) and Christie Clark (Carrie Brady) will be departing the DAYS canvas this fall.
Peck returned to Days of our Lives in September 2005 -- a whopping six months after it was first announced that the actor was returning. According to then-head writer, James E. Reilly, the show needed to wrap up some other storylines before bringing Peck back into the fold. However, it is more likely that the show was simultaneously negotiating a return with Clark.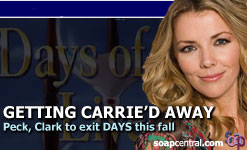 Clark's return to Days of our Lives followed Peck's by several months. The actress made her return in early December 2005. Her return, part of a wave of "blasts from the past" returning to DAYS, ended a seven-year absence with the show.
While DAYS is currently under orders to trim its budget - both operational and talent salary - it is not immediately clear if Peck and Clark's departures are mandated by the budget crunch. With Hogan Sheffer settling into his role as head writer, Sheffer may be making the customary adjustments to the cast that are essential for his vision of the show. Traditionally there are many cast changes when a new head writer takes over: characters that don't fit the scribe's plans are scrapped and new characters are brought in to help mold the show.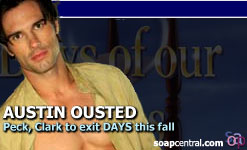 The aptly-named Peck assumed the role of Austin in April 1995 and remained a core cast member of the show through April 2002. Clark, meanwhile, debuted as Carrie in 1986 and remained with the show for the next four years. After a two-year break, she returned in 1992 before making another exit in 1997.
Clark and Peck will exit together on October 26, 2006.