The speculation is over: Soap Central has learned that Christie Clark (Carrie Brady) will be returning to Days of our Lives sometime next month.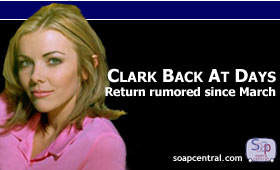 Whispers that Clark might return to the canvas first started back in March when it was learned that DAYS had re-hired Austin Peck (Austin Reed). In a poll conducted by Soap Central at the time, fans were overjoyed that Austin was returning - but most felt it wouldn't be the same if Carrie wasn't returning too.
"I'm thrilled to report that I will be heading home to Salem," Clark said in a statement on her official web site. "I start taping in early November. Just yesterday I spoke with Austin Peck [and] we are so excited to portray Austin and Carrie again. I think the audience will love the new grown-up characters. It's been a long time coming.... and I'm pleased as punch. Thanks to everyone for their support!"
Clark also revealed that Days of our Lives execs had first approached former Austin, Patrick Muldoon, about reprising the role of Austin. However, the actor reportedly did not want to return to daytime television.
It's been quite a while since DAYS fans last saw Clark on screen. The actress held the role of Carrie from 1986 to 1990 and then returned for another run from 1992 through 1999. During that two-year period of Clark's absence, actress Tracy Middendorf took over as Carrie.
Clark will first appear on December 2.
---

NEWS ARCHIVES
DAYS announces Austin Peck will return to Salem.
---