Fresh off a short-lived return to Days of our Lives, Austin Peck (Austin Reed) is packing up and heading east to CBS's As the World Turns. Peck has landed a part as a member of a core family on CBS's As the World Turns.
Peck will assume the role of Brad Snyder, perhaps one of the lesser-known Snyders. Over the past few years, As the World Turns' writers have made concerted efforts to boost the on-screen visibility of the Snyder family. As for who Peck will be interracting with on his new soap, the actor can't say: he has been asked by show executives to keep quiet.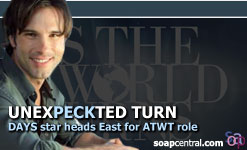 Brad appeared previously in Oakdale from 1998 to 1999. The character lasted just a little over a year, but during that time three different actors held down the role. Nick Kokotakis originated the role in June 1998, but by March 1999 the role was recast. Roy Eudon was then brought aboard as Brad, but his stint with the show was even shorter. After just one month with the show, Eudon was replaced by soap vet John Loprieno. Loprieno wrapped up the character's storyline and exited As the World Turns in August 1999.
The minute Peck's agent, über manager Michael Bruno, learned that Peck was being let go, Bruno made some calls and learned that As the World Turns had an upcoming role for which Peck might be a fit. Peck's initial screen-test was pushed back several times - and the material he had to learn for the audition changed - but the actor eventually flew to New York and audition for the casting director of As the World Turns.
But delays are something that Peck has become familiar with during his more recent daytime gigs.
Peck returned to Days of our Lives in September 2005 - a whopping six months after it was first announced that the actor was returning. According to then-head writer, James E. Reilly, the show needed to wrap up some other storylines before bringing Peck back into the fold. Peck exited DAYS in October.
Now, Peck will also have to wait it out for his As the World Turns engagement to begin. The actor is slated to go to work sometime in December and he will first be seen on-screen on January 19, 2007.