Emmy winner Lesli Kay is returning to As the World Turns.
Kay originated the role of Molly Conlan in March 1997. Over the next seven years, Kay's character became one of the most popular on the show. In 2001, the actress was honored with a Daytime Emmy in the Outstanding Supporting Actress category .
However, with her family living on the West Coast, Kay expressed a desire to relocate to California. In May 2004, As the World Turns "chose not to stand in the way" when Kay asked to be let out of her contract in order to accept the role of Lois Cerullo on General Hospital.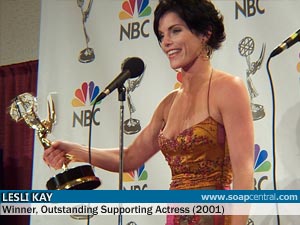 The separation was amicable and As the World Turns quickly cast Christina Chambers as Molly.
Unfortunately, Chambers didn't catch on with fans and she was written out of the show just two months later. Over on General Hospital, viewers of the ABC soap were also having a hard time seeing a new face in a fan-favorite role. After less than a year in the role, Kay made her final appearance as Lois in April 2005.
Since late-2005, Kay has been appearing as Felicia Forrester on The Bold and the Beautiful, a role for which she was also a recast. In 2007, Kay received her second Daytime Emmy nomination.
In the past, actors under contract to one show have made guest appearances as the same character on another program. While extremely rare, it is not unheard of for a performer to be "loaned out" to another soap. In 2002, Days of our Lives and The Bold and the Beautiful reached a deal that had actress Lauren Koslow (ex-Margo Lynley) reprise her former B&B role for two episodes.
In what is believed to be a first-of-its-kind situation, Kay will work on both The Bold and the Beautiful and As the World Turns at the same time. Though Jensen Buchanan appeared as both Victoria McKinnon on As the World Turns and Melissa Bedford on General Hospital, the simultaneous appearances were forbidden in Buchanan's ATWT contract. GH was forced to recast the role until Buchanan last aired on the rival soap.
Meanwhile, Kay will commute from coast to coast when needed by a given show.
Kay will return to As the World Turns this fall, though an exact first airdate is not yet known.
Photo: Dan J Kroll/Soap Central