Days of our Lives and The Bold and the Beautiful have reached an agreement that marks a first in daytime television history: The shows will loan a contract performer to each other. While character crossovers have been done before -- most noteably on ABC -- this marks the first time that competing programs have allowed a performer to return to his or her previous role on another program.
Lauren Koslow (Kate Roberts), who appeared on CBS's The Bold and the Beautiful from 1987 to 1992 as Margo Lynley, will make a brief reprisal just in time for the November Sweeps period. Koslow's B&B character is the mother of newcomer Mark Maclaine.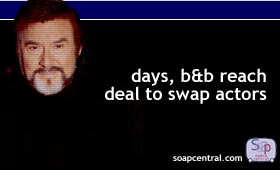 It's been over a year since Joseph Mascolo (Massimo Marone, The Bold and the Beautiful) was last seen on NBC's Days of our Lives as the diabolical Stefano DiMera. In recent weeks, the show revealed that Mascolo's character had been killed off-camera. While news that Mascolo is returning - albeit briefly - to Days of our Lives has some fans hoping that Stefano isn't really dead, a show spokesperson explains that Mascolo isn't going to be involved in a new storyline.
Both Koslow and Mascolo will appear in "newly created flashbacks," states a spokesperson. While both performers are taping new scenes with their respective former shows, the material being filmed used as "history" footage and will not be "current day" material.
So how did this actor swapping come to pass?
According to reports, B&B's head writer and executive producer Bradley Bell phoned DAYS' executive producer Ken Corday to announce that he had an idea to have Koslow's character figure back into B&B's storylines. Corday was not in a position to agree to any deals and took Bell's idea to NBC executives. After some discussion with network execs, Corday reached out to Bell to find out if B&B would be willing to loan Mascolo back to DAYS for its own storyline purposes.
Koslow makes her return appearances on B&B on October 31 and November 1. Mascolo's return to DAYS, however, will not be seen on-screen for some time -- possibly not until after the New Year.