Emmy-winning soap opera veteran Lesli Kay will join the cast of The Bold and the Beautiful at the end of November in the role of Felicia Forrester. This will be the actress' third soap role since the summer of 2004.

"This is going to be the role of a lifetime, as far as I'm concerned," Kay gushed. "I'm working at the show that I've been dying to work on forever, with actors that I hugely respect."

"We are thrilled to have Lesli aboard as the rebellious Felicia Forrester," said Executive Producer and Head Writer Bradley P. Bell. "Lesli is a pro who will be stepping into the middle of a gut-wrenching story. If anyone can deliver the goods, it's Lesli."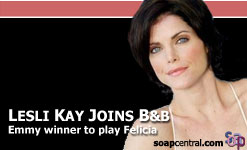 Kay, whose first daytime roles were on Loving, One Life to Live and Ryan's Hope, is best known to daytime television viewers for her work on CBS's As the World Turns. It was her work as Molly Conlan on the show that earned her an Outstanding Supporting Actress trophy at the Daytime Emmys in 2001.

In 2004, however, Kay made the decision to move to the West Coast to be closer to her family. Kay left her role on As the World Turns and soon found work as Lois Cerullo at ABC's General Hospital. Fans, however, didn't catch on to Kay in the recast role of Lois. Less than a year after joining General Hospital, Kay was dropped to recurring status - and hasn't been seen on-screen since.

Soap fans probably already know that Kay will not be the first actress to play the role of Felicia on The Bold and the Beautiful. Colleen Dion reprised the role of Felicia in July 2004, but after a few short months the transcontinental commute to Los Angeles from her East Coast home proved too much for Dion. Felicia was written off the canvas in December 2004, but the door was left open for Dion to return at a later date.

Kay debuts on The Bold and the Beautiful on November 30 in scenes opposite Hunter Tylo (Taylor Forrester).