In October 1988, Cady McClain made her daytime television debut as Dixie Cooney on ABC's All My Children. As the pretty, naÔve, girl from Pigeon Hollow, West Virginia, McClain earned legions of fans -- and a Daytime Emmy. In 2002, AMC fans were stunned when the actress revealed that she was jumping ship to a rival soap, As the World Turns. Even more surprising was that McClain's new role, Rosanna Cabot, was nothing like the her former alter ego.

McClain would return to All My Children three years later, and what came next left many AMC viewers with a bad taste in their mouths. Shortly after speaking out about a storyline on All My Children that involved a man being buried alive and his murderer getting off without so much as a slap on the wrist, McClain found herself written out of the show. Her character was felled by, of all things, poisoned pancakes.

Now, Cady McClain talks with Soap Central about her storied daytime career, the challenges of being a perpetual victim -- as well as being a bitch, and whether she has any regrets about being outspoken. Plus, the actress talks about what she thinks fans really want from their soaps and how they can get it.



When you first announced that you were going to join ATWT there was a lot of surprise among fans, who only thought of you as All My Children's Dixie Cooney Martin and didn't know quite what to make of the news that you were going to be playing someone new. What went into making the decision to go from being a perky girl from Pigeon Hollow to ...
A bitch? (laughs) Well, 9/11 had just occurred and after that I decided that I wanted to quit my job, dye my hair, dump my boyfriend, and move. Because if I wasn't happy then everything had to change. And so, I signed up to go to NYU, I moved to a studio apartment, dyed my hair red, broke up with my boyfriend, and then [As the World Turns executive producer] Chris Goutman called. He said, "Hey, I've got this really interesting role. What do you think?" I was tempted by the idea of creating a character that was the absolute opposite of Dixie, and proving to the daytime audience that I could actually do other work than that role that everybody knew me for. I had done a lot of plays, and a lot of indie films, and some TV work, but I had really gotten stuck in that niche, you know. Which is a fantastic opportunity for any actor to feel that you have some sort of long-term employment, but ha ha ha. (Using a dramatic voice) But thusly it turned out, "No, you don't!"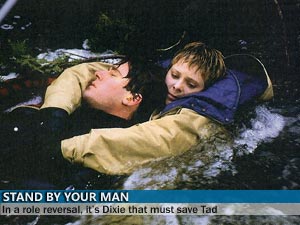 But I think that was the impetus behind it. It was certainly not to betray the long-term viewers of All My Children. But for me as an artist, I wanted to show another side of myself, something I could do. And I needed to do that and I needed to prove it to myself. I also knew that I would never win [another] Emmy playing Dixie simply because of the way that it was being written for me. I was sort of worn out by how much of a victim she had become on the show. She was just hanging off of cliffs, hanging off of buildings, Tad was rescuing me... You get a little tired of that. Even when I went back in '06, I really wanted them to create a strong female character for what is essentially a strong female audience. Even though it was agreed to in words and deed, all the characters are still victims on that show. As the World Turns actually has the strong women that are proactive and take action to change their future. Yes, they need men and love men and all of that, but they are not lightweights and not bitches for the sake of being bitches, which I also think All My Children has a lot of.
You were right, in a way. You felt you wouldn't win another Emmy for your work as Dixie -- and then picked up an Emmy for your work on As the World Turns.

When I won my Emmy on All My Children, it was as a kid. I was like 21 at the time. I knew that once I became an adult woman that that wasn't going to work. That character wasn't going to achieve enough of an adult sensibility. It was just an instinct that I had. They were going to try to keep her in that same type of role. So World Turns was a great opportunity for me in that regard, and I love playing Rosanna. It was really hard work, much harder in a way because our schedule [on As the World Turns] is really intense. We start really early in the morning and the pace is really fast. It was really hard, but I am really glad I did it.

I think the thing about the fans feeling like, "Oh no, no. You have to stay on this show and be this character because we've committed to that," I can completely understand that and I totally respect that. Their commitment is essential to the long-term prosperity of these shows. I also think that there have even been actors who have walked away from daytime altogether and pooh-pooh it and said I am going on to nighttime, films, and blah blah... I've never done that. I've always said that daytime is a great place to work if you want to work with just a very specific medium. You can do whatever you want to here. I have loyalty to daytime television. It's been good to me and I've tried to be good to it in return.
Some actors may see it as a negative if you don't go outside of the genre, even now when it seems like people are understanding the value of daytime actors.

On the one hand, I can understand that because sometimes it seems silly. But I think people in the know get it. A friend of mine is on the board of directors for the Atlantic Theater Company, and they just did something called The 24-Hour Play where the writers wrote something and then cast it and rehearsed it and put it up [on stage] that night. That's pretty much what we do in daytime every day. Larry Bryggman [ex-John Dixon] was there and said, "Hey, this is like daytime."

I can understand why there is a bias against daytime sometimes. The melodrama is very high and sometimes the younger actors who are just starting out maybe are not as strong, but on the other hand, I think anyone who's gotten hooked into these shows knows there's also a lot of really strong actors who are there.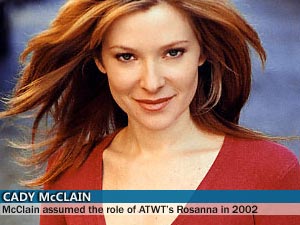 Do you think any one performer is so valuable that the show can't survive without them? On the flip of that, do you think it's wise to have so much airtime for one or two characters when the actors may leave and suddenly you have this massive void?

I know that over time what I've seen is that shows are always looking for a couple that will spark. That hot new couple. But there's always the core characters that make up the families. If you lose a character that kind of holds the foundation of the show -- like Ray MacDonnell [Joe Martin, AMC] -- him not being there, that's different. I remember when they recast Mary Fickett [Ruth Martin, AMC]. I thought that's so strange, but she was not well and she didn't want to do it anymore. But at least Ray was there to balance that out. They really made a lot of effort to keep consistent the Martin family. Because the Martins and the Chandlers and the Kanes, that was the All My Children book and that's the story. And now it feels like they're throwing out all that history, throwing all the books out the window. My opinion is if you're gonna throw the book out the window, wipe the slate clean, call it something else, start over with all new actors, and just do that. Because the reason that daytime is so successful and so long-lasting is because of that history. There have been people who have been able to pass down information about this character who played this role that meant this to the show. Clearly different actors can play that same character. So no one actor can make or break a show. I don't think so. I do think that if All My Children lost Susan Lucci, that might be an exception to the rule, but maybe not -- you never know. Actors know that we're always expendable. We're wallpaper. Nobody's too big to be fired. It's just not the way it is.
» CONTINUE READING TO PART TWO
---
---