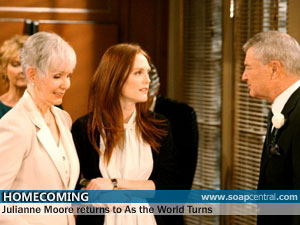 When soap fans learn the painful news that their favorite soap is going off the air, many find solace in knowing that some of their favorite performers from yesteryear might make their way back to the show to help with the sendoff.
Award-winning actress Julianne Moore will return to As the World Turns next month, Soap Central has confirmed. Moore will reprise one of the roles that helped launch her career. From 1985 to 1988, Moore appeared in the dual roles of half-sisters, Frannie and Sabrina Hughes.
Moore also appeared as Carmen Engler on The Edge of Night in 1984.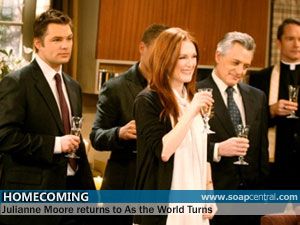 Since leaving daytime, Moore has gone on to find success in motion pictures. The actress is a four-time Oscar nominee for roles in Boogie Nights, The End of the Affair, The Hours, and Far From Heaven. She most recently appeared in A Single Man, and has several films currently in production.
Word of Moore's possible return to As the World Turns was first reported by Entertainment Weekly late last week. The two sides have now reached a deal that will have Moore appearing as Frannie beginning April 3.
Photo: JPI