Over the past year, actress Terri Colombino's (Katie Peretti) work on As the World Turns has been overshadowed by some fans' decision to gossip and comment on her personal life. Despite the chatter, Colombino has been honored by her industry peers with a pre-nomination in this year's Datime Emmys competition. Now, Colombino has opened up about the end of As the World Turns, the end of her marriage, and putting an end to the rumors and speculation.
Terri Conn made her first appearance on As the World Turns as Katie Peretti in August 1998. Over the next decade, the actress would become one of the show's most popular actresses, earning a 2001 Daytime Emmy nomination. In 2001, she and Arthur Colombino were married, and three years later they welcomed daughter, Julia Catherine.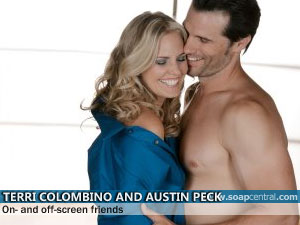 Colombino's personal life became the subject of tabloid fodder as published reports linked her to the firing of her co-star, Austin Peck (ex-Brad Snyder). Both performers opted not to comment publicly as the rumors spiraled out of control. In a recent interview with Michael Fairman for his On Air On Soaps site, Colombino unexpectedly opened up about what it was like to have the public speculating on her personal life.
"Austin had said if we keep responding to this it's just going to fuel the fire, and we bit our tongues and let it go through, and it did end up fizzling out," Colombino remarked. "But, it's the price you pay of being in the public eye. It's just not fair to those who aren't. We kept saying, 'Thank God, we were not Brad and Angelina,' and we were thankful to people [...] who chose to take the high road."
Per its policy, Soap Central does not comment on the personal lives of actors, unless the performers involved issue a statement or comment on the matter. During the aftermath of Peck's dismissal, the site chose to report only on Peck's release.
Colombino dismisses talk that her relationship with Peck was what got him fired from the show, and noted that there'd "be no more television" if actors were fired for their off-screen behavior.
Though admittedly saddened by Peck's exit from As the World Turns, the resulting story powered arguably some of Colombino's most powerful work to date. The actress was pre-nominated for a Daytime Emmy in the Outstanding Lead Actress field. She is now deciding which episode to submit in order to secure an Emmy nomination.
For the complete interview, please visit:
michaelfairmansoaps.com/as-the-world-turns/the-terri-colombino-interview-as-the-world-turns/2010/03/11/
Photo: CBS Broadcasting Inc.