Soap veteran Robin Mattson will join the cast of As the World Turns next month. The short-term stint in Oakdale will mark a return to daytime television for the Emmy-nominated actress. Mattson will appear in the newly-created role of Cheri, who is described by a showsperson as "a woman who gives Emily a run for her money."
It's too soon to tell if Mattson's new role will have the same... issues as some of her previous roles. Though Mattson might be getting typecast as the perfect soap opera villainess, it is that type of role that has earned the actress critical acclaim and legions of fans.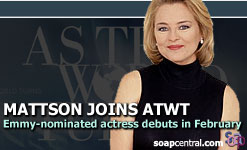 Mattson's first appearance on daytime television came on CBS's Guiding Light, where from 1976 to 1977 she portrayed Hope Bauer Spaulding. It wasn't until 1980 that Mattson skyrocketed to stardom on daytime as the devious wannabe murderer Heather Webber on ABC's General Hospital. Though Mattson was only on GH for three years, the actress tallied numerous awards including an Outstanding Supporting Actress Daytime Emmy nod in 1983. Mattson had a brief appearance on Ryan's Hope in 1984 before moving on to yet another memorable role: Santa Barbara's Gina Capwell. Mattson's eight-year run with Santa Barbara garnered the actress three consecutive Daytime Emmy nominations.
In 1994, Mattson has the difficult task of taking over the role of Janet "From Another Planet" Green on All My Children. Viewers of the ABC soap were skeptical that anyone could take over the role that had been created by Kate Collins, but Mattson quickly won fans over. Mattson's mentally ill Janet eventually found a softer side before the actress was written out of the show in 2000. When AMC penned Janet back into the show in 2005, fans were surprised that the show opted to have Collins reprise the role. After all, Mattson's Janet had undergone experimental plastic surgery so that she would no longer look like Collins' Janet. Insiders say that Mattson was not even approached by the network about a return.
After leaving All My Children, Mattson appeared as "Sugar" in about half a dozen episodes of The Bold and the Beautiful.
Outside the soap world, Mattson is an accomplished chef who hosted "The Main Ingredient" cooking show. She has also penned a cookbook. On a personal level, Mattson married Werner Roth in June of 2006.
Mattson makes her first As the World Turns appearance on February 12th.