As previously reported by Soap Central, the Internet is awash in rumors that Kristina Wagner (ex-Felicia Jones, General Hospital) might be joining the cast of The Bold and the Beautiful.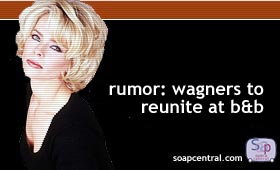 Wagner exited ABC's General Hospital to little fanfare in February, after having been with the show for nearly 20 years. Citing lack of airtime in recent months, Wagner and the show parted amicably. Wagner's decision to walk apparently caught the network off guard -- and without a special highlights montage to praise Wagner's long history with the show.
Wagner's real-life - and former on-screen - husband, Jack Wagner (ex-Frisco Jones, General Hospital) portrays ship captain Dominick Payne on The Bold and the Beautiful. Almost immediately upon learning of Kristina's GH exit, some Internet fans began speculating that the actress might be headed to join her husband at B&B.
That is not the case, according to B&B's executive producer and head writer Bradley Bell. Bell calls Wagner's exit from General Hospital "just a coincidence" and insists that the show has no plans to add a second Wagner to the cast.
Privately, an industry source hints that Jack and Kristina would prefer not to work together. "Kristina and Jack are working to reconcile," the insider says, referring to the couple's separation in February 2001. Since that time, however, the Wagners have been working to patch things up. "Working together all day might [compromise] what they've been working so hard to do."