Felicia Jones Scorpio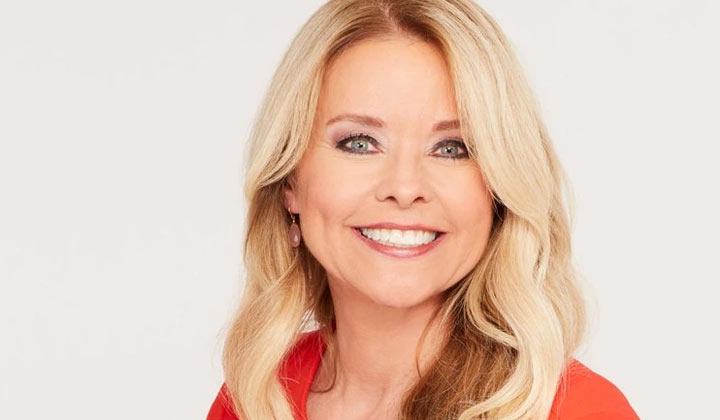 Sandra Ferguson
June 9, 2005 to Fall 2005 [recurring]
Interior designer
Writer
Private investigator
Former partner in the Outback
Former manager at Duke's Club
Formerly an Aztec Princess
Formerly 1020 North Yale, Port Charles, New York
Formerly Maria's ranch in Texas
Formerly 1242 Elm Street, Port Charles, New York (The Brownstone)
Married to Mac Scorpio [Engaged: Apr 8, 2013; married: Aug 16, 2013]
Frisco Jones (dissolved by his "death")
Colton Shore (Invalid due to Frisco returning from the dead)
Frisco Jones (Divorced)
Mac Scorpio (Divorced)
Mariah Cummings (grandmother)
Mariah Maximilliana Jones (daughter; with Frisco)
Georgianna Jones (daughter; with Frisco; deceased)
Georgie (granddaughter; via Maxie)
Peter Harrell (engaged)
Tom Hardy (dated)
Lucas Lorenzo "Luke" Spencer (one-night stand)
Roy DiLucca (dated)
Mac Scorpio (dated)
Disguised as a boy, attempted to steal a ring from Frisco Jones's room [summer 1984]
Accumulated speeding tickets without paying them, breaking and entering, spying and stealing
Impersonated a nun
Felicia first arrived in Port Charles in 1984 disguised as a boy while on the hunt for a family heirloom that Frisco Jones had in his possession. Felicia and Frisco were attracted to one another but Felicia was engaged to Peter Harrell. She managed to end her engagement and the hold Peter had over her and once she was free, she and Frisco fell in love. The couple joined their friends Robert Scorpio and Holly Sutton in Mexico to search for a hidden Aztec treasure. While they were in Mexico, a man named Sean Donely also expressed a romantic interest in Felicia but she did not return the sentiments and they became close friends instead.
After the search for the Aztec treasure was over, Frisco joined the police academy and Felicia married him. Frisco worked briefly for the Port Charles Police Department but he changed his career path and joined the World Security Bureau (WSB). He was presumed dead soon after and Felicia mourned the loss of her husband. Felicia moved on and found love again with Lucy Coe's cousin Colton Shore and married him. Felicia did not know that Colton had been programmed to kill Frisco and had caused Frisco to be presumed dead. Frisco showed up very much alive at Felicia's wedding to Colton. Felicia had to choose between the two men that loved her which was further complicated after she was involved in an accident and developed amnesia. Felicia recovered and decided her true love was Frisco and the couple remarried.
Felicia and Frisco enjoyed many adventures with fellow WSB agents Sean, Robert, and Anna Devane. Felicia was paralyzed after an earthquake in the late 80's also had another bout of amnesia which left her thinking she was a carnival worker named Phoebe. Felicia and Frisco shared their love of excitement and danger until Felicia became pregnant with the couple's first child. She gave birth to a daughter they named Maxie and Felicia hoped Frisco was ready to give up his adventurous work with the WSB. Frisco was torn between his love for his family and his job. This placed Felicia's marriage under strain until the couple divorced in 1993.
After her divorce, Felicia was stalked by pediatrician Ryan Collins. He became obsessed with Felicia and kidnapped her. After she escaped Ryan's clutches and went on the run with Mac Scorpio. The friendship between Mac and Felicia turned into romance and they planned to marry. They made it to the altar but their ceremony was interrupted by Ryan. Felicia was ready to try another marriage ceremony with Mac until Frisco returned to Port Charles. Their daughter Maxie was very sick and in need of a heart transplant. Felicia was thrilled when the transplant arrived, then devastated when she realized that the heart came from Maxie's cousin, BJ. The roller-coaster emotions led Felicia to end up back in Frisco's arms and she broke off her engagement to Mac. Shortly after, Frisco took off again, leaving Felicia pregnant with their second child Georgie. Mac stood by Felicia and they remained friends.
In 1995, Felicia became close to fellow Brownstone tenant Tom Hardy. That friendship led to romance and steamy encounters. This relationship derailed in 1996 when she thought he was stalking her. In truth, her good friend Kevin Collins (Ryan's twin) had been stalking her while mentally ill. In time, she forgave Kevin but her relationship with Tom was ruined forever and he soon left town.
In 1998, one of Felicia and Mac's cases left them posing as an engaged couple. The faux engagement pleased Felicia's daughters so much that they took the ruse all the way to the aisle, where they finally realized they loved each other and married. Felicia started to write a novel, but her plans were put on hold when Ned commissioned her to write Lila's memoirs. This put her into close contact with Luke Spencer, a friend who helped her solve the mystery surrounding Lila's past. They continued to be friendly, with a growing attraction as she helped him in his various international escapades. This put a huge strain on her marriage to Mac, who suddenly seemed boring in comparison to fun-loving Luke.
Luke and Felicia entered into an adventure together when Felicia was being watched by Cesar Faison, the same man that had been responsible for the presumed deaths of her good friends Robert and Anna Scorpio nearly a decade earlier). Felicia was kidnapped by Faison and Luke began a search for her but he ended up trapped in the cell where she was being held. They came close to making love when they thought they were going to die but Mac burst in and saved them. Mac had very strong doubts about Felicia's fidelity and her own children felt betrayed due to her frequent absences. Mac believed Felicia's word that she had remained faithful and remained committed to their marriage until Felicia ran off to help Luke search for his son Lucky only weeks after returning home from the Faison fiasco. Mac packed up the kids and sent them to her grandmother's ranch in Texas. When Felicia returned home, her children were gone and Mac left. Outraged, Felicia flew down to Texas only to realize that her daughters, especially her eldest Maxie, hated her.
Felicia went away with her family to a dude ranch for a month and repaired some of the damage she had done and Mac decided to give her another chance. Felicia tried her best to stay away from Luke but she and Luke ended up giving into their passion in a hotel room. Luke promised Felicia that no one would ever know until Luke was then arrested for Stefan Cassadine's murder and Felicia was his only alibi. Luke kept the truth a secret until she finally came forward and tearfully admitted on the witness stand that he had been with her that night. Luke was freed because Stefan wasn't really dead, but Felicia's marriage definitely was over.
Felicia and Mac divorced in 2001, even though some passion and sparks remained between them. As Felicia tried to put her feelings for Mac and Luke in the past, she also struggled with the serious growing pains of her daughters Maxie and Georgie. She worked on a case with Luke's old friend, Roy DiLucca, and they became involved. When she turned down his marriage proposal, he left town. In spring 2003, Felicia got word of her beloved grandmother Maria being seriously ill and in need of round-the-clock care. Leaving her girls in Mac's hands, Felicia relocated to Texas.
A little over a year later, Felicia returned to Port Charles and took up residence with Mac and the girls at the Scorpio home. After Lila's death, Felicia was chosen to determine who should be the recipient of Lila's inheritance. The family was furious that Lila had chosen Felicia to be their judge but their greed led them to participate in the competition. Eventually Felicia found Justus to be most deserving of the inheritance.
Felicia left town again to care for her ailing grandmother and reconnected with Frisco. The pair worked together on Frisco's missions for a government agency but Felicia arrived alone when she received word that Georgie had been murdered by the Text Message Killer. Maxie was devastated by the sudden loss of her sister and took out her grief on Felicia via a public attack at Georgie's funeral. Maxie accused her mother of dumping them on Mac and claimed that she had no reason to be present at the funeral since she had turned her back on the deceased.
The words Maxie spoke crushed Felicia until Georgie's ex-husband Dillon Quartermaine shared stories of how Georgie used to speak with pride and love about her mother. Felicia acknowledged that she had missed many important chances with Georgie but she vowed to make it up to her by aiding the police investigation into her murder. She stayed for a few weeks and worked on the case until she was called away to assist Frisco.
Felicia returned to Port Charles again in 2012 to attend Maxie's sentencing after her daughter confessed to murder. Felicia spoke out in court and asked the judge to blame her for abandoning her daughter but the judge ignored her protests and sentenced Maxie to twenty years in prison. After Maxie was taken away to begin her time Felicia reconnected with Mac. She apologized for running off and leaving him to raise her daughters and admitted that missing out on the lives of her children was her greatest regret. Mac forgave her and she promised to remain in town until Maxie's name was cleared.
Shortly after Maxie was sent to prison Spinelli uncovered evidence that proved Maxie's innocence. Felicia and Mac celebrated Maxie's release together and grew closer. Felicia admitted to Anna that she had feelings for Mac again and she wondered if Mac felt the same way. Her question was answered when Mac kissed her and they began dating.
As Felicia and Mac reconnected romantically, Maxie chose to be a surrogate when her best friend was unable to carry a child. When Maxie became pregnant, Felicia notified Frisco and he arrived in Port Charles to check on Maxie and win Felicia back. Frisco reminded Felicia of all that they had once shared and promised that he was done placing his job ahead of her. At the Nurses Ball, Frisco sang to Felicia and proposed to her. Felicia turned down the proposal and explained that her heart belonged to Mac. Afterwards, Felicia proposed marriage to Mac and he accepted. They married several months later at The Floating Rib in the presence of their family and friends.
During the wedding reception, Maxie went into labor and delivered a healthy baby girl. However, Maxie became attached to the baby she had carried and struggled to part with the child. Felicia remained by Maxie's side and offered her support. She continued to be there for her daughter even after Maxie admitted that she had lied about the pregnancy. The baby she had given birth to was her own biological child and Maxie petitioned for custody. Maxie needed her mother's support more than ever after her petition was denied. Mac and Felicia worried about how Maxie would move forward after the loss until they all received the stunning news that Robin was alive and back in Port Charles.

Post a Comment

Share on Facebook

Tweet this

Submit Feedback