After less than four months with The Bold and the Beautiful, newcomer Emily Harrison (Bridget Forrester) has been bumped to recurring status.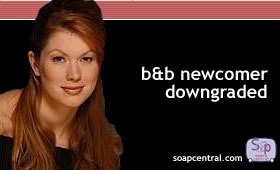 Harrison assumed the role of Bridget in January 2004 from two-time Daytime Emmy winner Jennifer Finnigan. Finnigan announced plans to pursue other projects, including a role on the NBC primetime drama Crossing Jordan.
Harrison had incredibly big shoes to fill and some fans were not willing or ready to accept another actress in the role of Bridget. Harrison was further hindered when she was backburnered by the unavailability of Brian Gaskill (Oscar Marone), her on-screen love interest.
A spokesperson for The Bold and the Beautiful explains that downgrading Harrison is due to a shortage of storyline for Bridget. However, the spokesperson insists that Harrison is still a part of the show and will still be seen on-screen and declined to comment on Internet speculation that the role might be recast.
Harrison's status change takes effect in May.