Emmy winner Heather Tom (Katie Logan) has extended her stay with The Bold and the Beautiful. The actress joined the cast of the CBS soap last year in what was originally designed as a short-term role.
"Heather has signed a 3-year contract with The Bold and the Beautiful," said an announcement on the actress' official web site.
Tom joined The Bold and the Beautiful in August 2007, assuming the role of the youngest Logan sister, Katherine "Katie" Logan, Brooke and Donna's little sister. It had been three years since Katie was last seen on the show. Actress Nancy Sloan originated the role of Katie in 1987 and remained with the show as a contract player for just two years. Sloan did, however, returned in 2000, 2001, 2003 and 2004 for guest appearances.
Heather Tom signed a long-term contract with B&B. What are your thoughts?


It's great news. Tom really lights up B&B and Katie has many story options.
37%
I am not a fan of Tom's Katie and would rather see her written out.
36%
I'm disappointed because, as a Y&R fan, I'd rather see her as Victoria.
15%
Tom's Katie is fine, but I think the role would've been better short-term.
4%
I think it's great that the show is exploring the Logan family in detail.
4%
I have no opinion about Tom's new contract with B&B.
3%
Other
1%
Poll Posted: January 12, 2008
Daytime fans know that Tom's stint on The Bold and the Beautiful is not her first role in daytime television. The actress enjoyed a 12-year run on CBS's top-rated soap, The Young and the Restless as Victoria Newman. During her tenure with Y&R, Tom earned eight consecutive Daytime Emmy nominations in the Outstanding Younger Actress category. In 1993 and 1999, Tom took home the Emmy in that category.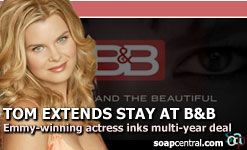 Citing "creative differences," Tom exited The Young and the Restless in November 2003. A month later, Tom joined the cast of ABC's One Life to Live as Kelly Cramer. Tom remained with One Life to Live through in December 2006 when she opted to leave to pursue other opportunities.
Tom's original agreement with The Bold and the Beautiful was not disclosed; however a setside source told Soap Central that Tom had agreed to a six-month contract.
CBS does not comment on contracts.