Emmy winner Ian Buchanan (James Warwick) makes a short return to The Bold and the Beautiful canvas later this month. In the show's storyline, Nick Marone tracks down James to ask for him to help his wife Taylor, whose alcohol abuse and paranoia are out of control. By the time James is able to meet with Taylor, Buchanan says the patient is "hitting the sauce pretty bad and having hallucinations."
"I'm thrilled to return to my old stomping ground," Buchanan said in a statement. "It's fun to be working with the cast and crew whom I considered family for so long."
Considering that the current writers' strike is certain to keep him off primetime projects for the foreseeable future, Buchanan says that he'd like to tweak the soap's script a bit so that Taylor's recovery isn't too speedy.
"'Gee, Taylor's in worse shape than I thought. This could take me a year'," he jokes.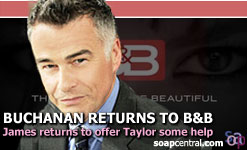 A one-time fashion model, Buchanan came to the United States from Scotland to work as an actor. Success came quickly.
Though his run on The Bold and the Beautiful is his longest-running soap opera engagement, Buchanan has an extensive daytime portfolio and fans may know him from any number of roles.
In 1986, Buchanan made his soap debut, appearing as Duke Lavery on ABC's General Hospital. He remained with the show for the next three years before taking a four-year break from the soaps. He then made a special one-day cameo appearance on NBC's Days of our Lives, when the show crafted the role of Lord Sheraton for him in 2001. Buchanan then moved on to play the contract role of Joshua Temple - a vampire -- on Port Charles from 2002 to 2003. The actor's most recent daytime journey took him to All My Children's Pine Valley where he portrayed Dr. Greg Madden.
Buchanan originated the role of James Warwick on The Bold and the Beautiful in 1993. During his initial six-year run with the show, Buchanan received two Daytime Emmy nominations in the Outstanding Supporting Actor category. In 1997, the nomination translated into Emmy gold for him.
Buchanan has also found success outside of the soap world. His most recent credits include an arc on the critically acclaimed "Nip/Tuck" and a role in the soon to be released film "Train Wreck: My Life as an Idiot" starring Gretchen Mol.
Buchanan makes his B&B return on January 28th.