Sean Kanan (ex-Deacon Sharpe, The Bold and the Beautiful; ex-AJ Quartermaine, General Hospital) was sentenced in December to five years of probation and 18 months of alcohol education after pleading no contest to drunk driving charges earlier in 2007.
Kanan was pulled over at 3:30 a.m. on August 18, 2007, and arrested because his blood-alcohol reading was over 0.08. Initial reports indicated that Kanan was drunk, and had also taken an illegal drug before getting behind the wheel. Convicted of DUI in 1998, Kanan entered a not guilty plea in his most recent case, but changed his mind after the prosecutor offered a chance to plead to reduced charges.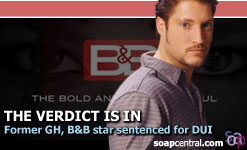 Because this was Kanan's second DUI offense, he was also sentenced to four days in jail and fined $1,994.00. Jail time is suspended pending successful completion of probation and education.
Kanan played Deacon Sharpe on B&B from 2000 to 2005. The actor remains a fan favorite as every so often rumors of his "impending return" make their rounds on the 'net. Prior to his stint on The Bold and the Beautiful, Kanan appeared as General Hospital's AJ Quartermaine from 1993-1997.
Kanan's next project is Jack Rio, a thriller about a troubled actor fighting against stereotyping while a serial killer runs amuck. Jack Rio stars Matt Borlenghi (ex-Brian Bodine, All My Children; ex-Ziggy, B&B), and also features daytime veterans Monti Sharp (ex-David Grant, Guiding Light), Nadia Bjorlin (Chloe Lane, Days of our Lives), Justin Torkildsen (ex-Rick Forrester, B&B), and Tristan Rogers (ex-Robert Scorpio, GH). Borlenghi is also one of the screenwriters on the project. Watch for Jack Rio in later this year.
Photo Credit: CBS Television
---

RELATED STORY
GH, DAYS star Kirsten Storms arrested for DUI. [Sep 10, 2007]
---