William deVry (Storm Logan) made a stunning exit from The Bold and the Beautiful last week, the exit coming as the culmination of powerful and dramatic storyline. In a series of increasingly disturbing scenes that showcased Storm's madness, self loathing and, finally, redemption, deVry commanded Storm's destiny and cemented his own place in the halls of daytime fame.
Storm terrified Ashley, impelled his little sister Katie to intervene, accidentally shot Katie in the heart, and then took his life in hope that his own troubled heart would be a good enough match to save his sister in a sibling-to-sibling transplant.
This is not the first time that one of deVry alter-egos met with an untimely end. As a result, deVry has a philosophical outlook on seeing yet another of his characters get killed off.
"I'm quite flattered that [B&B executive producer/head writer Brad Bell] gave me this much heavy material, trusting I could pull it off...I wanted to do it justice," he told Soap Opera Digest.
Storm Logan was reintroduced in 2006 when deVry became the third actor in the role. Ethan Wayne was the first actor to tackle the role of Storm, appearing as a contract player in 1987 and 1988. He would later make sporadic guest appearances from 1994 to 2003. Brian Patrick Clarke also appeared on B&B as Storm. Clarke's appearances came in 1990 and 1991. deVry took over in October 2006 when Storm was ummoned to defend Taylor from manslaughter charges.
How do you feel about B&B's decision to write out deVry's Storm?


I didn't like Storm, but I do have concerns with the way he was written out
36%
I'm upset. deVry's a good actor and Storm had more story potential.
33%
It's disappointing, but I do think that his exit made for powerful story.
22%
I wasn't a fan of deVry's Storm, so I admit to being glad that he's gone.
5%
I have no opinion on deVry's exit as B&B's Storm.
3%
Other
1%
Poll Posted: May 5, 2008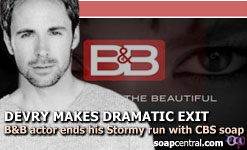 An accomplished actor with an impressive resume that includes the soaps
All My Children
and Port Charles, as well as a multitude of movie and primetime roles, deVry grew up in Canada, Guinea and Florida. He is the great-grandson of deVry University founder Herman deVry.
As for a return to daytime television, deVry hasn't ruled out a return to the soaps. The actor, however, muses that he will only accept a role "that doesn't end in death - again."
Nothing is set in stone, although there have been rumors that Storm hasn't left the B&B canvas for good yet. There's always the soap standby, the ghostly or angelic character, to be explored. A message on deVry's home page cryptically encourages fans to check back for updates on his future with B&B.