Actress Hunter Tylo (Taylor Forrester) has gotten married in what can only be described as a very hush-hush, secret ceremony in Las Vegas. The unpublicized wedding took place in Las Vegas in front of family and friends.


"Gersson and I were married on November 29," said Tylo. "God has blessed me in the most special of ways. God has redeemed my life and future. My season of sadness has ended. We are a very happy family. I welcome your blessings and well wishes!"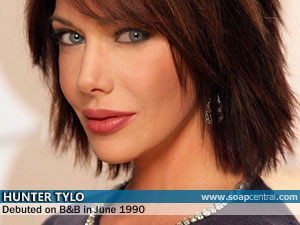 The 47-year-old Tylo married Gersson Archila, 38, at Cupid's Wedding Chapel on November 28. News and photos of the nuptials were first published by tabloid magazine, the National Enquirer. It is unclear how long Tylo and Archila had been dating.
Tylo had reportedly been involved with her off-and-on boyfriend Corey Cofield until just a few months ago. Earlier this year, Tylo made headlines when she filed a restraining order against Cofield alleging that, after Tylo had learned of Cofield's infidelity, he had abused both her and her children.
In March, gossipers claimed that Tylo was exiting The Bold and the Beautiful because she was difficult to work with. The rumors were unfounded, but they continued to dog the actress for several months. In October, Tylo filed a wrongful death suit in the 2007 drowning death of her son, Mickey.
This is Tylo's third marriage. She was married to fellow soap star Michael Tylo for 18 years. The pair split in 2005. Before that, Tylo was married to Tom Morehart.
--->
---
---