Adrienne Frantz (Amber Moore) is leaving The Young and the Restless -- but where she'll land next is anybody's guess.
In a message on her official Facebook page, Frantz informed followers that she'd be heading back to The Bold and the Beautiful, a show she called home from 1997 to 2005. During her run on B&B, Frantz earned three Emmy nominations -- and an Outstanding Younger Actress win in 2001.
"I will be going back to B&B!" Frantz informed fans. "I am very happy!"
Frantz crossed over to The Young and the Restless in 2006. In discussing her return back to her old stomping grounds, Frantz may have jumped the gun. A spokesperson for The Bold and the Beautiful states that the actress' return is not yet a done deal.
"No contract has been signed yet," the spokesperson explained.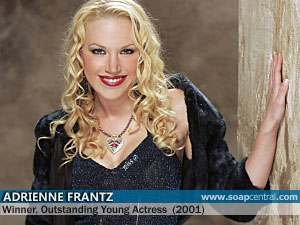 As soap fans know, most shows prefer to keep big storyline details under wraps -- and seldom does a show rep comment on contract talks. It has been rumored in recent weeks that Frantz might not reprise the role of Amber on B&B, but rather that of Amber's twin sister, April Knight. In upcoming story on The Young and the Restless, however, Amber flees Genoa City for California. The Bold and the Beautiful is set in Los Angeles.
TVGuide Magazine's Michael Logan reports that Frantz has apparently also been contacted by a rival network about taking on a very prominent role. According to the report, Frantz told some of her Y&R co-stars that All My Children reached out to her about taking over the role of Bianca Montgomery. Earlier this year, the show's most recent Bianca, Emmy winner Eden Riegel, announced that she'd be joining The Young and the Restless as Heather Stevens. All My Children executives publicly stated their intentions to recast Bianca at some point -- but it was never envisioned to be so soon.
Meanwhile, Frantz will make her final appearance in Genoa City on May 7, though it is believed that her alter ego will be seen on-screen in at least a few additional episodes.
Photo Credit: Robert Voets/CBS
Y&R hires Emmy-winning All My Children star Eden Riegel as its new Heather. [Mar 4, 2010]
All My Children says it'll recast the role of Bianca. [Mar 5, 2010]