Fans still reeling from the news that Eden Riegel (ex-Bianca Montgomery) has jumped ship to rival soap, The Young and the Restless, will have to brace themselves for even more shocking news. Riegel, Soap Central has learned, apparently rejected an offer to return to the ABC soap -- and now All My Children is moving forward with plans to recast Bianca.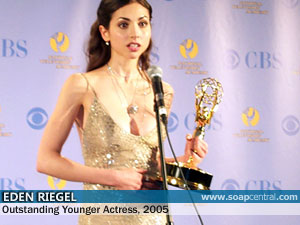 According to a setside source, and as previously reported by Soap Central, ABC did reach out to Riegel with an offer to return to All My Children. While the actress' tweet last November seemed to put the blame for things falling through on the network, that appears not to be the case.
"ABC absolutely wanted Eden Riegel back, and they even went as far as to make her an offer," the source tells Soap Central. "She made it clear that she [no longer] wanted to play the role of Bianca."
Riegel appeared as a contract player on All My Children from July 2000 through February 2005. In 2005, Riegel won a Daytime Emmy as Outstanding Younger Actress. Even after departing All My Children in 2005, Riegel remained a visible member of the cast. The actress returned to the show on nearly half a dozen different occasions to participate in short-term storylines. It is unclear why Riegel would want to walk away from a character that she helped transform into a household name.
In her Twitter message last fall, Riegel said simply, "Looks like it isn't going to work out for me going back to AMC when they move out to LA. I'm very sad..."
Riegel's new gig at The Young and the Restless begins next week. She will take over the role of Heather Stevens, currently being played by Emmy-nominated actress Vail Bloom. In a related story, Bloom had reportedly not yet been told that she was being replaced when the news of Riegel's signing first broke.
Meanwhile, All My Children has decided that Bianca is too important to future story to simply disappear. The show will recast Bianca at a later date, though no timetable has yet been set.
"Erica will not be without her children for too long," the source adds.
An All My Children spokesperson had no comment on plans to recast Bianca. Riegel's agent did not immediately return calls asking for a statement.
RELATED STORY: Shocker! Eden Riegel jumps ship to The Young and the Restless
Photo: Dan J Kroll/Soap Central