The Bold and the Beautiful will soon be pulsating to the beat of Latin Grammy-winning reggaeton recording artist, Daddy Yankee. Yankee, who has sold more than 8 million albums since 2002, will help kick off the summer as part of a story arc where his music becomes a catalyst for some surprising actions by several B&B characters.
"The story takes place during a raucous party full of young people who are ready to take a break from the scholarly pursuits of high school. We conceived it as a modern urban take on a masquerade ball," B&B executive producer and head writer, Bradley P. Bell, remarked. "Daddy Yankee's hypnotic thump is the perfect intoxicating elixir to entice some of the characters into doing things they might not ordinarily do. The consequences for the Forrester family will be devastating, leading to some of the series' most dramatic situations yet."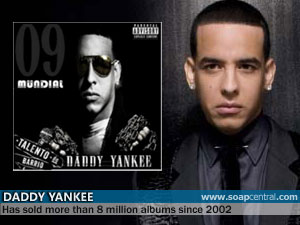 Among the new songs Daddy Yankee will perform on the top-rated drama series will be "Grito Mundial," which was chosen as an official song for the 2010 FIFA World Cup. Also featured in the series will be the broadcast television premiere performance of the single, "Que Es La Que Hay," among others.
In May 2006, Time magazine named Yankee, born Ramón Luis Ayala Rodríguez, as one of the 100 Most Influential Artists in the World. Yankee recently received awards from Billboard as Urban Latin Artist of the Decade and the Latin Album Artist of the Decade.
Yankee's seventh studio album, Mundial, will be released on April 27 via his El Cartel Records label.
The Bold and the Beautiful is currently the only American daytime drama series to simulcast in English and Spanish. The Spanish audio can be accessed using the SAP (Secondary Audio Programming) feature on televisions.
The five-episode story arc featuring Daddy Yankee will air from Tuesday, June 1 through Monday, June 7, 2010.
Photo Credit: Robert Voets/CBS