Jacqueline MacInnes Wood (Steffy Forrester) is exiting her role on The Bold and the Beautiful -- but it's only for a short time. The actress has booked a film role that will take her away from the CBS soap.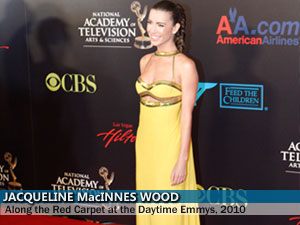 Wood is currently in her native Canada, filming scenes for the feature film Final Destination 5. The movie, part of the supernatural-horror film franchise, will be filmed in high-definition in and around Vancouver. Wood has landed a starring role as Olivia Reynolds in the film, which is due out sometime in 2011.
Fans need not worry that the actress' movie work will impact her daytime character. Wood has pretaped numerous scenes, so Steffy will continue to appear on the canvas.
Final Destination 5 marks Woods' first feature film role. She made her first appearance on The Bold and the Beautiful in June 2008.
Wood will return to a regular B&B schedule in December.
Photo Credit: Kat Guarino/Soap Central