Sasha Thompson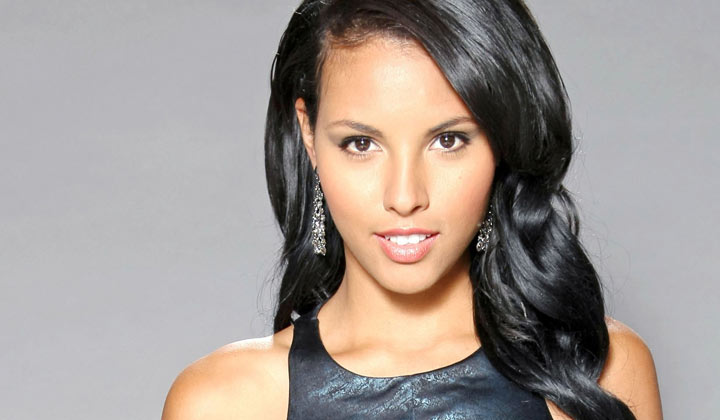 Felisha Cooper
Model at Forrester International
Former model at Forrester Creations
Worked at a fast food restaurant in Illnois
Attended parochial school in Evanston, Illinois
Paris
Formerly Los Angeles, CA
Formerly Evanston, Illinois
Single
None known
Julius Avant (father)
Lucy Thompson (mother)
Maya Avant (half-sister)
Nicole Avant (half-sister)
Elizabeth Forrester (half-niece)
None known
Faked a pregnancy test with another woman's urine [2016]
No known conditions
Sasha Thompson is the daughter of Julius Avant and Lucy Thompson; growing up in Illinois, Sasha was forced to pretend Nicole Avant was only a childhood friend, not her half-sister, while attending Avant family events with Lucy as friends. Sasha worked in a burger joint, then followed the Avants to Los Angeles, where Nicole and her transgender sister, Maya Avant, were involved with design house Forrester Creations. Sasha resented Julius for not acknowledging her as an Avant and refused to go back to Illinois, instead setting her sights on Nicole's boyfriend, budding photographer Zende Forrester Dominguez, and becoming his model, which upset Nicole.
Capitalizing on Zende's discomfort with Nicole being a surrogate for Maya and her husband Rick Forrester, Sasha offered Zende a friends-with-benefits situation and disobeyed Julius' repeated demands to leave town. As soon as Zende broke up with the pregnant Nicole, Sasha got Zende into bed and bragged to Julius about it. Mistakenly assuming Zende was in love with her, Sasha crowed to Nicole, who also ordered Sasha to leave town and got a shock when Sasha told Nicole they were half-sisters, which caused a rift between Julius and his wife, Vivienne Avant.
Inspired when Zende was moved by the birth of Nicole's baby and decided to break up with her, Sasha lied that she was pregnant but was nearly caught when Maya and Nicole forced her to take a pregnancy test; Sasha achieved a positive result by convincing a pregnant stranger not to flush a public toilet. However, Sasha couldn't go through with the deception and confessed everything to Zende. Sasha was surprised by being included in an Avant family meeting where Julius implored everyone to forgive each other, and by getting a chance to model Forrester's Intimates lingerie line with Zende as her photographer.
Sasha was impressed when Zende's half-cousin, Thomas Forrester, demanded that Julius stop telling Sasha she was nothing but a painful reminder of Julius' affair; Sasha kissed Thomas for his effort and began seeing Thomas romantically, though Nicole, who felt Thomas wasn't over his babymama, Caroline Spencer, disapproved. Indeed, when Caroline came back to town with Thomas' infant son, Douglas Forrester, wanting the three of them to be a family, Sasha let Thomas go, not wishing to stand between him and his child.
Incredulous that Maya and Rick wanted Nicole to carry a baby for them a second time, Sasha stood by Zende, who railed at the idea of coming in second to Nicole's surrogacy again. Sasha got a surprise trip to Hawaii when a drunken Zende whisked her away upon hearing that Nicole was going through with the surrogacy; on the plane ride home, Sasha and Zende kissed, then made love, but Nicole, who had changed her mind, caught them together. Sasha apologized but defended Zende's position; when Nicole refused Zende's repeated marriage proposals, Sasha told Nicole that Zende was fair game and asked a confused Zende where things stood between them.
Months later, hearing Nicole had finally agreed to marry Zende, Sasha sheepishly approached Nicole and asked if she could attend the ceremony. Sasha watched Nicole and Zende exchanged vows and told them she was happy for them; Sasha then disappeared from the canvas, though it was said later that she was still in Zende and Nicole's orbit as they all worked together at Forrester International in Paris.

Post a Comment

Share on Facebook

Tweet this

Submit Feedback