Bryan Dattilo's (Lucas Roberts) eight-year run on Days of our Lives has come to an end.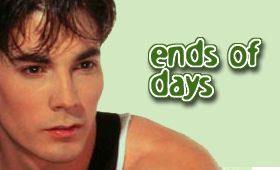 As reported last month by Soap Central, Days of our Lives executives fired the long-running star. In the aftermath of the announcement, an Internet prankster started spreading rumors that Dattilo was just one of eight stars let go from the show. Days of our Lives executive producer, Ken Corday, quickly stepped forward and announced that there was no truth to the rumor.
Corday states that he dislikes using the word "fired" to explain Dattilo's departure. Instead, Corday refers to the exit as giving Dattilo's character "a rest."
Regardless of the words used to describe the departure, Dattilo's final appearance is March 27th. The role of Lucas Roberts will not be recast.