Days of our Lives'
Thaao Penghlis
(
Tony DiMera
), an actor who saw his character make a surprising rise from the dead last year, will once again have to bid farewell to his character. Soap Opera Central has confirmed that the actor will exit the show by year's end.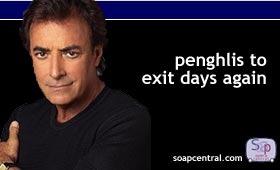 Penghlis originated the role of Tony DiMera, the son of the evil Stefano DiMera, back in 1981. He remained in the role until 1996, and for a few years pulled double duty by playing Tony's cousin, Andre DiMera. During head writer James E. Reilly's previous stint as head writer of Days of our Lives, the actor's character was also "killed" off. In actuality, it was look-alike Andre that had been killed. Ironically, the same is true of the now-departed Matthew Ashford (ex-Jack Deveraux).
A letter that had originally be attributed to Penghlis has now been revealed to be the work of the actor's personal assistant. While to quotes attributed to Penghlis were not his own words, the content of the message was, in fact, correct.
Penghlis's assistant has encouraged his fans to write to the show and network executives to express their disappoint in the decision to kill off Tony -- and, possibly, to keep the actor on the show.
Penghlis will make his final on-screen appearance in January. Tony will be mauled by a tiger while attending the circus. But it won't be the animal attack that does him in -- the killer will poison his IV at the hospital. The good news in all of this, if that is possible, is that the killer's identity will finally be revealed.