Daytime veteran John Ingle (Edward Quartermaine, General Hospital) will take over the role of Mickey Horton on Days of our Lives beginning later this month.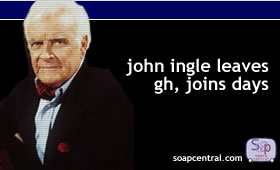 The announcement that Ingle will join Days of our Lives is a major casting coup for the NBC soap. At the close of 2003, Ingle had been informed by General Hospital execs that his contract with the show would not be renewed. Due to fan outcry and a purported change in storyline, General Hospital re-hired Ingle in early 2004. Now, just a matter of a few weeks after his reinstatement, Ingle has jumped ship.
The role of Mickey Horton was vacated in January when original DAYS cast member John Clarke announced his retirement. Clarke had spent 38 years as Mickey.
NBC quickly moved to cast veteran actor Richard Voigts in the role of Mickey. However, Voigts will be seen only a handful of times on air.
A spokesperson for ABC declined to comment on how Ingle's departure would be addressed by General Hospital. Ingle had been tapped to portray Edward on a recurring basis and was apparently not intricate to major storyline.
Ingle joins the DAYS cast on February 18.

RELATED STORYGH re-hires Ingle after fan outcry.


RELATED STORYOriginal DAYS castmember Clarke retires.