John Clarke (Mickey Horton), one of two original Days of our Lives cast members remaining on the show, has announced that he will exit the soap.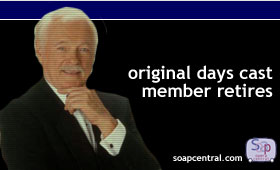 "John, with his physician's urging, wants to have time to walk his dogs, travel with his wife, sing in his choir, watch his daughter on a hit TV show [actress Mindy Clarke of The O.C.] and take care of his grandbaby," a DAYS spokesperson said in an official announcement.
The 73-year-old Clarke joined the Days of our Lives cast in 1965. His retirement leaves actress Frances Reid (Alice Horton) as the only remaining member of the show's original cast.
"Thirty-eight years in the same job is great for the ego but the health needs nourishment, too," Clarke stated. "I am going to miss everybody totally and forever... I'll be back -- to have lunch now and again, that is!"
Clarke's retirement became official on January 13. DAYS has tapped actor Richard Voigts to step in as Mickey Horton beginning February 3. A spokesperson for DAYS declined to comment whether Voigts would be a permanent addition to the cast or if he will remain on to wrap up Mickey's storylines.
---

FOLLOW UP
GH star John Ingle signed to take over role of Mickey.
---