Alice Horton
Deceased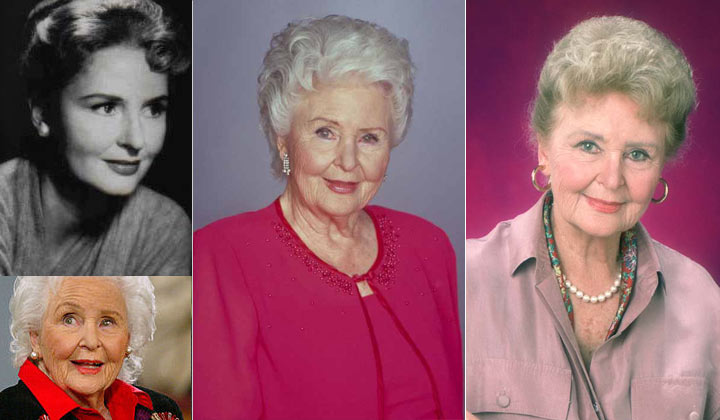 Mary Jackson
1965 [unaired pilot only]
Alice Grayson (maiden name)
Cecily Smith (alias used to trick Lawrence Alamain)
Born in Salem in 1911
Presumed dead March 2004; found alive May 2004
Died at home in Salem June 23, 2010
Natural causes
Retired at the time of her death
Former head of the Horton Center
Former hospital figurehead
Former hospital board member
Former Countess Wilhelmina board member
Former owner of Alice's Restaurant
Former housewife
Horton House 545 Sycamore Street, Salem, U.S.A (1930 – her death)
Formerly Melaswen Island (held captive) (March - November 2004; temporarily)
Formerly Grayson House (1911 - 1930)
Widowed (Thomas Horton Sr.)
Thomas Horton Sr. (1930 to 1991; invalid)
Thomas Horton Sr. (1991 to 1994; his death)
Sid Grayson (father; deceased)
Abigail Grayson (mother; deceased)
Tommy Horton Jr. (son)
Addie Horton (daughter; deceased)
Mickey Horton (son; deceased)
Bill Horton (son)
Marie Horton (daughter)
Sandy Horton (granddaughter; via Tommy)
Steven Olson (grandson; via Addie)
Julie Olson (granddaughter; via Addie)
Hope Williams (granddaughter; via Addie)
Melissa Horton (granddaughter; via Mickey; via adoption)
Sarah Horton (granddaughter; via Mickey; via adoption)
Mike Horton (grandson; via Bill)
Jennifer Horton (granddaughter; via Bill)
Lucas Roberts (grandson; via Bill)
Jessica Blake (granddaughter; via Marie)
Spencer Olson (great-grandson; via Steven)
David Banning (great-grandson; via Julie)
Robert Anderson Jr. (great-grandson; via Julie; deceased)
Shawn-Douglas Brady (great-grandson; via Hope)
Zack Brady (great-grandson; via Hope; deceased)
Ciara Brady (great-granddaughter; via Hope)
Jeremy Horton (great-grandson; via Mike)
Nick Fallon (great-grandson; via Jessica; deceased)
Nathan Horton (great-grandson; via Melissa)
Abigail Deveraux (great-granddaughter; via Jennifer)
Jack Deveraux Jr. (great-grandson; via Jennifer)
Will Horton (great-grandson; via Lucas; deceased)
Alice "Allie" Caroline Horton (great-granddaughter; via Lucas)
Scott Banning (great-great-grandson; via David)
Eli Grant (great-great-grandson; via David)
Claire Brady (great-great-granddaughter; via Shawn)
Arianna Grace Horton (great-great-granddaughter; via Will)
Thomas Deveraux (great-great-grandson; via Abigail)
None
Helped Roman Brady escape from jail (1993)
Arrested for trespassing when helping Jennifer get a story
Alice Grayson was born in Salem on January 23, 1911. Her family was blue-collar, her alcoholic father working as a handyman. Although he was a kind man, Alice was a sensitive girl and embarrassed by her father's drinking. As a result, she found solace in books and her studies. However, when she met her high school sweetheart, Tom Horton, everything changed. He was one year her senior and his love inspired her to become the confident, outspoken woman the entire town of Salem would grow to love and respect.
In 1930, when she was 19-years-old, Alice married Tom and she soon became the mother of his five children, twins, Tommy Jr. and Addie, Mickey, Bill, and Marie. Together, she and Tom raised their children and saw them through the joys and sorrows of life. In 1953, they believed their oldest son, Tommy Jr., was killed in action in Korea. He would eventually return to Salem in 1967, alive, but with amnesia and a new face due to extensive plastic surgery he had performed as a result of his war injuries. At the time, however, his apparent death devastated Alice, but she remained strong for her other children.
With Marie planning to wed in November of 1965, Alice had to face the fact that all of her children were grown and their home, once busy and bustling, would become empty. As such a devoted mother, Alice wondered what to do with all of her time. Tom tried to cheer her up, but he didn't have to, because before long, Alice would discover her children and grandchildren would need her support and guidance more than ever throughout the years to come.
Once her days as a housewife ended, Alice worked as a hospital volunteer for many years. In 1983, when Roman was arrested for the Salem Slasher murders, Alice helped him escape from jail by drugging some doughnuts she brought to him. When he was rushed to the hospital, she helped Bo block the road so Roman could get away.
In 1990, Alice learned that her granddaughter, Jennifer, was posing as Katerina Von Leuschner and planned to marry Lawrence Alamain. Alice went along with Jen and pretended to be Cecily Smith. Alice went to Alamainlande with Lawrence and Jen and she realized Jen was in trouble. Alice tried to escape and get help, but Lawrence caught her and through her in his make-shift prison along with Frankie Brady. After the escape from the cave-in at Lawrence's villa, Alice suffered a stroke and was forced to undergo surgery.
In 1991, Alice learned her marriage to Tom wasn't legal. She was heartbroken and Tom made matters worse when he didn't think too much of it. Tom said they were married in their hearts and that's all that mattered, but Alice wanted a real wedding. Alice went so far as to leave their house until he married her again, and on October 17, 1991 Tom and Alice remarried.
In 1993, Alice would become a business woman. When her granddaughter Julie left Salem, she and her daughter-in-law, Maggie, turned Julie's nightclub Wings into Alice's Restaurant. Later that year, she and Maggie teamed up again to invest in Billie Reed's up and coming cosmetics company Countess Wilhelmina.
In 1994, Alice and Tom founded the Horton Center, which was based out of their home. It provided shelter for run-away teens or families in need. Sadly, that would be the same year Alice lost Tom. He died in his sleep and his death affected nearly everyone in Salem, but, mostly, Alice. However, after Tom died, she put all her effort and time into running the Horton Center so that his legacy would live on.
In 1998, Alice's grandson, Lucas Roberts, moved in with her. He was a recovering alcoholic and the courts ordered him to stay with his grandmother. Although he eventually moved out, Alice's house was never quite as empty as she once imagined it would be. Shortly after Lucas left, Hope moved in for a short time.
Throughout the rest of 1990s, Alice remained a pillar of Salem's community. She spent a lot of her time at home babysitting, baking her famous doughnuts, and hosting her yearly Christmas tree decorating party. She also remained a figurehead at the hospital, and whenever there was a decision that needed to be made there, her opinion was of the utmost importance.
Between 2003 through 2004, the Salem Stalker struck close to her family by killing Maggie and grandson-in-laws Jack and Doug as well as other close personal friends. As always, Alice was there to offer support for her loved ones. However, during this unnerving time, many of Salem's most prominent citizens became suspects in the murder spree including Lucas. Despite what many others believed, she remained firm that her grandson was not the killer, and she was right.
Alice was eventually confronted in her kitchen by the real killer - her dear friend Marlena. She was being controlled by Andre DiMera and Alice would be her last victim. The beloved Horton Family matriarch "died" in March 2004 when Marlena caused her to choke on one of her famous doughnuts...or so everyone thought!
After Marlena "died" a short time later, she awoke on an island to find Alice there, alive and well. Alice began the long explanation that she wasn't really dead and, in fact, none of the Stalker's victims were either. They were all being held captive on the tropical island of Melaswen that was an exact replica of Salem.
The victims all rallied together as they worked on a way to get off the island. Their captivity lasted until November of that year when John, Bo and Hope, among others, came to their rescue. Although saddened that some of her friends were lost at sea, Alice was thrilled to finally make it back to the real Salem and reunite with her family and loved ones.
Since her return, Alice has kept herself busy with more babysitting, baking, and being a moral compass for her family and friends. She's also traveled a bit, too. And, of course, she has hosted her traditional tree decorating party where her kin get to hang their personal ornaments on the Horton Family Christmas tree.
Sadly, December 26, 2007 marked the last time Frances Reid appeared on-screen as Alice (sans flashbacks). However, the character remained an active member of show, but all of her involvements from that point forward happened off-screen and were recounted through various characters.
2008 marked the first year Alice was unable to host the ornament-hanging party. Although still celebrated at the Horton home, she remained upstairs while sick with the flu. Maggie, Doug and Julie took over Alice's hosting duties, while she enjoyed some one on one time with Mickey in her room watching holiday movies.
Alice would join her family at Bo and Hope's house to hang the ornaments on the Horton Christmas tree in 2009, spending most of the night in the kitchen baking cookies with her great-grandchildren. A few weeks later, in January 2010, her world was devastated when Hope broke the news to her that Mickey had died. Alice took her son's death extremely hard, but managed to attend the funeral.
After Mickey's passing, Alice was never the same. Throughout the winter and spring, her health began to decline. In June 2010, Alice's health took a sharp turn for the worse and her family knew she was slowly fading away.
Out-of-town relatives and friends rushed to Salem to say goodbye to Alice as well as share their favorite memories of her. Her children, Bill and Marie, arrived as well as grandchildren, Melissa, Mike, Jennifer, and Lucas, with his daughter Ali. Laura Horton also visited as well as close friends including Kimberly, Kayla, and Carrie Brady. Laura mentioned that Alice's bedroom looked like a greenhouse because so many people sent her flowers. Marie added that the roses – Alice's favorite – bloomed earlier that morning and Alice was able to see them one last time.
On June 23, 2010, Alice died. Her death was felt throughout Salem, and her family and friends gathered to mourn her passing as well as celebrate her full, vibrant life. At the cemetery, one by one, her loved ones placed a yellow rose on casket. Hope added, "I love you, gran. You look out for us, for the rest of the days of our lives."