It's been over two years since rumors first hinted that Julie Pinson (ex-Eve Lambert, Port Charles) would join the cast of Days of our Lives. Now, a show spokesperson has confirmed that the actress has indeed landed the contract role of Billie Reed.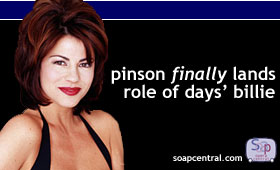 Pinson's name first popped up in the same breath as Billie Reed in March 2002 when it was learned that the actress had been let go from ABC's Port Charles. At the same time, Days of our Lives was looking to bring back the character of Billie Reed, but the show's first choice to play the part, actress Lisa Rinna, who had played Billie from 1992 to 1995, was potentially unavailable because she was in talks to host a cable talk show. The show's second choice, Krista Allen, who had also previously played the role of Billie, was said to have no interest in returning to daytime television. Though Pinson did read for the role, ultimately the show was able to lure Rinna back. Rinna's return, however, was short-lived as her character was quickly written into a corner. She exited only a few months after returning to the canvas.
This time around, however, Rinna, who still co-hosts SOAPnet's Emmy nominated talk show, Soap Talk, said that she would only be willing to reprise the role of Billie if it were a short-term stint. DAYS execs apparently had a much larger vision for Billie and opted to recast the role.
"It is obvious that Lisa is tied up -- she has two successful television shows on the air, Soap Talk and Merge -- not to mention the store Belle Gray," a show spokesperson says. "Needless to say, Lisa is and will always remain a part of the DAYS extended family."
"We look forward to all that Julie will bring to the role of Billie," says a show spokesperson. "She is an accomplished actress with a terrific following in the world of daytime television. We are confident that our fans will embrace her warmly!"
Pinson begins taping her first Days of our Lives scenes in mid-August. Her first airdate is scheduled for September 13th.