With speculation running rampant for months about his future with Days of our Lives, fans of Kyle Lowder (Brady Black) mobilized to sign petitions expressing their support for the young actor. Now, however, fans will have to accept the fact that the show has opted to send the Emmy-nominated star packing.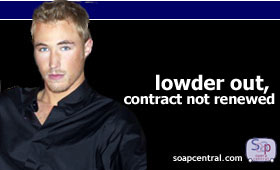 Rumors of Lowder's possible exit first started circulating this spring when actress Nadia Bjorlin (Chloe Lane) announced that she would be exiting the show. Almost immediately chatter began that Bjorlin's exit would also usher Lowder out of Salem. At the time, no one had any official comment.
Recently, Lowder remarked that he had not been approached by the network about renewing his contract. The actor took the situation in stride, commenting that the show was busy developing its summer stories. The offer of a new contract never materialized and the show opted to pass on renewing Lowder's contract. His contracted expired in August.
Lowder joined the cast of DAYS in August 2000 after starting off as a male model. In 2003 Lowder was nominated for a Daytime Emmy in the Outstanding Younger Actor category. Also in 2003, Lowder married co-star Arianne Zuker (Nicole Kiriakis).
Lowder last airs on September 15th. Zuker, meanwhile, has signed a new contract and reportedly has no intention of leaving DAYS.
What do you think about Lowder exiting DAYS? We want to hear from you -- and there are many ways you can share your thoughts.