Days of our Lives fans are in for a real treat as two of the show's most popular characters of all time will be returning to the canvas. Though a first airdate is still up in the air, a show spokesperson has now confirmed that Mary Beth Evans (Kayla Brady) and Stephen Nichols (Steven "Patch" Johnson) will be returning to the show later this spring.
"I have waited as long, if not longer, than the viewers for this historic return-two of our most beloved characters," said DAYS executive producer Ken Corday in a statement.
Indeed, it has been a long time since Days of our Lives viewers have seen Patch and Kayla in Salem. Kayla was last seen on-screen in 1992, while Patch was "killed" two years earlier.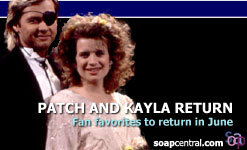 Evans' work in daytime television has continued almost continuously since leaving Days of our Lives in 1992. In 1993, the actress joined the cast of ABC's General Hospital. For the next six years the actress portrayed Katherine Bell. After leaving General Hospital in 1999, Evans began a lengthy recurring role as Sierra Montgomery on CBS's As the World Turns. Despite being seen front-and-center for a portion of her time with As the World Turns, the actress was not signed to a contract until November 2004 - and that was only after rival soap, One Life to Live, tried to sign the actress to a contract role.
Since leaving Days of our Lives in October 1990, Nichols has made numerous guest appearances on primetime television programs. His best post-DAYS role, however, would no doubt be his nearly-seven-year run on General Hospital as Stefan Cassadine. In a bit of clever casting by GH, Nichols was re-united with Evans, playing opposite his former DAYS co-star for three of his years with the show.
It is unclear if Evans and Nichols will be back for the long haul or if their returns will be more in line with the return of "legacy characters" on General Hospital. For the past few months, General Hospital has brought back several of its most beloved characters or special appearances, typically during the ratings-crucial Sweeps periods. Last year, Billy Warlock (Frankie Brady) returned to Days of our Lives after having been off the canvas for 14 years.
A DAYS spokesperson confirms only that Evans and Nichols will "return in early/mid-June," but promises much more information as the weeks to their return wind down.

RELATED STORYFinola Hughes' Anna Devane returning to General Hospital. [Sep 5, 2005]