What do you think of Soap Star's decision to offer a DAYS role as a prize?

I would rather DAYS focus on existing characters rather than new ones.
47%
I think the idea is silly. These roles obviously do not work out.
23%
It's a great idea. I can't wait to watch the contestants battle it out.
21%
It seems like a good idea, but I don't get SOAPnet in my area.
6%
I don't have an opinion about the contest at this time.
3%
Other
0%
Poll Posted: March 4, 2007
A new cast member will be joining Days of our Lives later this year and you, the DAYS viewer, will be able to weigh in and help determine who that new cast member will be. The selection process will be the culmination of the latest edition of the "I Wanna Be A Soap Star" series, set to debut this summer.
Production of the fourth edition of the SOAPnet reality series will begin in May. Open casting calls for the "Soap Star" will take place in Miami (March 17th), New York (March 24th) and Los Angeles (March 31st). The ten contestants that make the cut will make their first television appearances sometime in August.
This, the fourth edition of Soap Star, will mark a number of firsts for SOAPnet. This is the first time that the show has offered the chance to win a role on a non-ABC soap; the previous installments allowed fans to win roles on General Hospital, All My Children and One Life to Live. In addition, this year's winner will be named during a live telecast.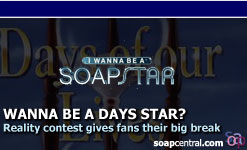 "We have had an incredible partnership with Days of our Lives since acquiring same day episodes in 2004," Deborah Blackwell, General Manager SOAPnet, said in a statement. "Our ability to cast a contract role on their show, that has over 40 years of history, speaks to our special relationship"
For those unfamiliar with the "I Wanna Be A Soap Star" format, the show follows very closely the standard reality show formula with a contestant being booted off each week. The show keeps true to its soap opera roots and requires each contestant to perform soap opera style "stunts" each week. A challenge may include a cat fight, a death bed confession or being caught in the act with a lover who just happens to be married.
Talent manager Michael Bruno return to the judging panel. He will be joined by newcomers, the multiple Daytime Emmy winning scribe Hogan Sheffer, who joined Days of our Lives late last year as head writer, and soap vet Mary Beth Evans (Kayla Brady; ex-Sierra Montgomery, As the World Turns; ex-Katherine Bell, General Hospital.) Emmy-winning actress Debbi Morgan (ex-Angie Hubbard, All My Children) was unavailable for this season due to scheduling conflicts. Cameron Mathison (Ryan Lavery, AMC) will continue on as host.
Previous Soap Star winners have met with mixed daytime success. Season two winner Alec Musser continues to star as Del Henry on All My Children. Season one winner, Mykel Shannon Jenkins, appeared for his promised 13-week contract on General Hospital and was written out shortly thereafter. The winner of the most recent Soap Star, Mikey Jerome, was seldom seen on One Life to Live and was killed off of the show.
"I Wanna Be A Soap Star" the Days of our Lives edition debuts Tuesday, August 14th at 800pm. New episodes air each Tuesday at the same time.