The other shoe has dropped for fans of another Days of our Lives supercouple. Less than a month after learning that Thaao Penghlis (Antony DiMera) had been let go by the NBC soap, comes word that Emmy winner Leann Hunley (Anna Fredericks) will also exit the show.
Though fans had been speculating about Hunley's fate ever since Penghlis revealed that he'd be given his walking papers, it was Hunley herself who announced her fate in a message posted on her official web site.
"Hello Darlings! I worked my last day on DAYS today and had a good cry [as part of the storyline]," Hunley wrote. " Anyway, THANK YOU for all your sweet wishes and support over the last year and a half. I had a wonderful time bringing Anna back to life and will miss 'her' more than just a little."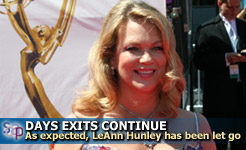 Hunley's return to Days of our Lives in June 2007 was heralded by the show as a concerted effort to return to the soap's golden years. The actress originated the role of Anna in 1982 and remained with the show through 1986. Just as Hunley was exiting the show, she took home the Daytime Emmy for Outstanding Supporting Actress.
The ouster of Hunley is sure to bolster claims that Days of our Lives executives are trying to make the show younger. Last month, DAYS executive producer Ken Corday denied a report that the show felt it had "too many people... over 40."
Hunley taped her final scenes on March 4. It has not yet been announced when that episode will air.