Anna Fredericks DiMera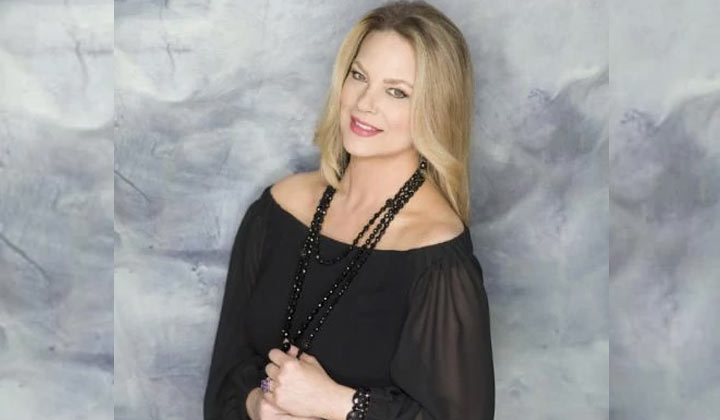 Anna DiMera (married name)
Anna Brady (married name)
Retired
Former executive for DiMera Advertising
Former executive at Lumberg Advertising
Former owner/designer of her own fashion company (Alex sold her his shares)
Former co-owner/designer of a fashion company with Alex Marshall
Formerly Tony DiMera's secretary
Somewhere in the tropics
Formerly in a hidden cabin in Salem
Formerly in Chicago
Formerly in the DiMera mansion
Formerly at the Salem Inn
Formerly somewhere in Europe
Formerly somewhere in Salem
Single/ Widowed
Tony DiMera (Married on May 21, 2008; dissolved by his death March 31, 2009)
Tony DiMera (married and divorced in 1985)
Tony DiMera (married in 1985; invalid)
Tony DiMera (married in 1983; divorced in 1984)
Roman Brady (divorced in the early 1980s)
Brett Fredericks (brother)
Carrie Brady (daughter; with Roman)
Governor Jim Ford (not shown on screen; sometime after Tony's "death")
Prince Nicholas Arani II (deceased)
Blackmailed Governor Ford with suggestive pictures to pardon Nicole Walker (March 2010)
Custodial interference- helped E.J. stage Sydney's kidnapping (December 2009- March 2010)
Tried to frame Roman
Spied on Tony DiMera while working for Stefano DiMera
Drugged and married Tony DiMera
Believed to have murdered Claus Van Zandt
Anna Brady showed up in Salem in 1982 with her daughter Carrie to find her husband and Carrie's father Roman. Roman believed Anna was dead, but she told him she was rescued and then sold into white slavery. Anna had red marks on her back which she claimed where whip marks, but were actually scars from multiple sclerosis, which she kept a secret.
Anna divorced Roman and soon took a job as Tony's secretary. However, Anna had secretly been working for Stefano all along. Stefano had agreed to pay Anna one million dollars to have Roman fired from the ISA. Anna hypnotized Carrie into planting fake deposit slips in his place. Roman was suspended from the police force, but the ISA believed he was framed.
In 1983, Anna and Tony went to Las Vegas, where Anna drugged and married Tony. Tony was angered, but when Stefano's will was read he was forced to live with Renee for one year to gain his inheritance. Anna and Tony lived in the DiMera mansion with Renee and David Banning.
Anna soon became pregnant with Tony's child, and jealous Renee tried to kill Anna in a boating accident. Unfortunately Tony was on the boat with Anna when an explosion went off. Tony and Anna were rescued by David, but Anna lost her baby. Later that year Tony learned exactly how Anna got him to marry her, by drugging him. Tony quickly divorced Anna, even though Anna had fallen in love with him by that time.
Later Anna became involved with Alex Marshall, but when she found a letter from Kelly Chase implicating Alex in dealings with Stefano she was forced to flee town because Alex was after her. Anna hid in a warehouse, but when it caught fire she was rescued by Roman, who was on the run from the law after being framed for the Salem Slasher murders.
Anna soon learned that the evidence connecting Alex to Stefano was destroyed and she could safely return to Salem. Once in Salem Anna returned to her old job as Tony's secretary, but Alex forced her to spy on Tony for him. While snooping around in Tony's apartment one day she found Tony chained up, and realized she was working for an imposter. Before Anna could get away Andre DiMera, who was impersonating Tony, locked her up with Tony. Later the two were rescued by Roman.
In 1984 Anna and Alex Marshall opened up a fashion company. Alex, Anna, and Tony picked Haiti for a photo shot. On board the plane flying to Haiti was Eugene Bradford, Calliope Jones, Bo Brady, Hope Williams, Anna DiMera, Liz Chandler, Carlo, Daphne DiMera, Andre DiMera, and Tony DiMera. On the way to Haiti Andre DiMera surprisingly popped up, and when he threatened the pilot to change his course the pilot died of a heart attack, and the plane crashed on a remote island. As a result of the plane crash Daphne DiMera died in Andre's arms. When Tony learned about this, the two fought, and Andre met his demise in a patch of quicksand. Tony gave the necklace with the prism to and island girl, but Stefano managed to get the prism back. Roman Brady showed up, and fought with Stefano atop of a nearby cliff as Bo watched from below. Roman eventually fell, and died on the beach in Bo's arms. When Bo left Roman to get help, Roman's body was gone when he returned. Eventually the Coast Guard arrived, and everyone was rescued.
After returning to Salem, Alex Marshall sold his and Anna's fashion company.
In 1985, Alex stole his ex wife Anna's dress designs, but Anna had the last laugh when Eugene rigged the fabric on the dresses to disintegrate while they were on the runway. Later that year Anna had a brief romance with Prince Nicholas Arani II, but it was cut short when he was murdered by the Dragon. Tony and Anna became engaged once again. Their first marriage was thwarted by Alex Marshall, who hired an actor to play the part of the minister. Their second wedding was thwarted when Anna was kidnapped by an Asian potentate. Eventually Tony and Anna were married, and returned to Salem.
After returning from Salem, Anna was accused of murdering an art dealer, Claus Van Zandt, who swindled her out of profits from pieces of hers he sold. Anna was innocent, and while trying to prove her innocence Tony disappeared. Anna was also blamed for her husband's disappearance, but in truth Tony was held captive by a very much alive Claus Van Zandt.
When it was discovered that Claus was still alive Anna was let off the hook, but Tony was till missing. Later Anna received a court document telling her Tony had divorced her. Anna left Salem in 1986 and spent the next few years living in Europe before returning to Salem in 2007 to give the family some letters that had belonged to Tony.
She soon became embroiled in the Brady/DiMera feud, and even rekindled her old romance with Roman before discovering that for the last twenty years, Tony had been living on an island, and it had been his cousin Andre; who was impersonating him. Tony and Anna quickly reunited, realizing their love had never died. They re-remarried in May of 2008. Anna resumed her career as well and went to work as an executive for Tony's advertising firm. The two were happy for a while, but as Anna sensed the hostility between Tony and Stefano, she started spending more time away from Salem. When Tony died in a freak accident, Anna blamed Stefano for causing Tony so much pain that he put himself in harm's way. After Tony's death, Anna moved to Chicago.
After Grace's death, Anna reached out to E.J. and offered her condolences for his lost daughter. The two kept in touch and when E.J. needed help getting revenge on Stefano, Anna agreed to help. E.J. paid Anna $5 million to kidnap and keep Sydney hidden while he made everyone in Salem think she was gone, until E.J. wanted to return her back to Salem.
Anna left town, but when Rafe started asking questions about Sydney's kidnapping, Stefano and E.J. got nervous that Anna would incriminate them. So, Stefano poisoned Anna to keep her from talking. When she woke up, she went on the run to hide from the authorities.

Post a Comment

Share on Facebook

Tweet this

Submit Feedback