Another long-time Days of our Lives veteran has been shown the door. Bryan R. Dattilo (Lucas Roberts), who has been a member of the DAYS cast for 16 years, has been informed that the show will not be picking up the renewal option in his contract.
Though his contract isn't up for renewal until February 2010, a show source tells Soap Central that Dattilo was informed that he'd no longer be needed just before Days of our Lives stopped production for its holiday break.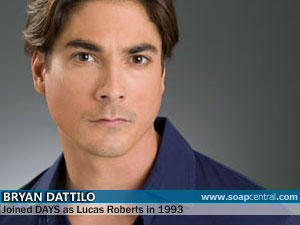 This is not the first time that Dattilo has effectively been fired from the NBC soap. In 2001, Dattilo was stunned when the show unexpectedly let him go, though the actor would eventually be re-hired the following year. Since then, there have been several occasions when, according to DAYS executive producer Ken Corday, the show has needed to give Dattilo's alter ego "a rest." The most recent of those breaks came earlier this year when Lucas was sent off to rehab for a period of time. The actor returned to the canvas on December 3.
Soap Opera Digest quotes Dattilo's manager as saying only that Dattilo "has taped his last episode." A Days of our Lives spokesperson was unavailable for comment because of the show's hiatus.
Dattilo is expected to last air sometime in February, though an exact date has not yet been determined.