Frances Reid, who has played the beloved Alice Horton since the very first episode of Days of our Lives, has died. The actress passed away on February 3, at the age of 95.
Born in Wichita Falls, Texas to banker Charles William Reid and Anna May Priest, Frances Reid grew up in Berkeley, California. Though an accomplished actor before stepping into the world of daytime, Reid's role on NBC's Days of our Lives is the role that would make her a household name. In her early years, Reid played a man in a thirty-minute play in grammar school. Reid attended and graduated from the Pasadena Community Playhouse, where she majored in acting. She began her professional acting career in her mid-20s with a bit part in the movie Man-Proof. The following year, Reid made her Broadway debut as Juliette Lecourtois in Where There's a Will.
Reid appeared in numerous roles in theater productions prior to landing on television. Her credits include the West Coast production of Tovarich, and Broadway productions of Hamlet with Maurice Evans and Cyrano de Bergerac with Jose Ferrer.
Reid's first television job was as Ann Rutledge on the NBC series, Prologue To Glory. She later went on to play the title roles in Mrs. Moonlight and Charlotte Corday. Reid had no way of knowing it at the time, but the name "Corday" would turn out to be very important in her life. Other credits include appearances on Kraft Theatre and Hallmark Hall of Fame.
Reid's first soap role came in 1954 on the 15-minute Portia Faces Life. Reid quit after six months, saying that the workload was "exhausting." In 1959, Reid took another shot at daytime serials, joining the Procter & Gamble-produced As the World Turns. For the next three years, she'd appear as Grace Baker. A few years later, she appeared on The Edge of Night. Then, it was back to primetime, including a numerous appearances on Wagon Train.
When Ted Corday offered Reid the role of "Alice" on a new soap opera he had developed called Days of our Lives, Reid reportedly was hesitant at first to sign on. Reid eventually accepted the role because she enjoyed working and realized that roles for women over 40 were not plentiful. In November 2009, Reid marked her 44th year on Days of our Lives.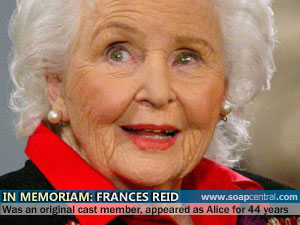 Reid received two Daytime Emmy nominations during her time on Days of our Lives -- a 1979 nod for Outstanding Supporting Actress and an Outstanding Lead Actress nomination in 1987. In 2004, Reid received a Lifetime Achievement Award.
Reid was an avid traveler, having logged passport stamps to Egypt, Peru, South Africa, and numerous European countries.

Reid was married to actor Philip Bourneuf for 39 years, until his death in 1979. They had no children.
In recent years, Reid reluctantly eased into retirement. She made her final appearance on Days of our Lives on December 26, 2007.
News of Reid's passing struck daytime fans still grieving the death of James Mitchell (Palmer Cortlandt, All My Children) last month. Reid's name became a trending topic on Twitter, a measure of the most-talked about things on the microblog site.
Funeral arrangements have not been announced at this time.
For reaction and comments from Reid's loved ones and co-stars, please click here for extended coverage of the passing of Frances Reid.
--->
---

RELATED STORY
Reaction to the death of Frances Reid.
---