While the sentiment may have been on the money, Days of our Lives star Peter Reckell (Bo Brady) now says that an "official" statement attributed to him last month was a fraud.
In an exclusive statement to Soap Opera Digest, Reckell reveals that he doesn't often go on the Internet -- and that any online statements are more than likely not from him.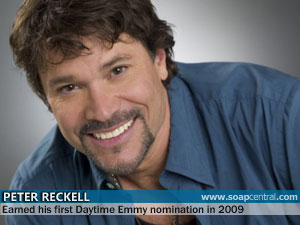 "I've had a couple of people online impersonating me. I don't know what to do," Reckell revealed. "Crystal [Chappell (Carly Manning)] told me she saw it. It showed up everywhere. Someone really went to a lot of trouble and I didn't even read it myself. If you see anything online, it is more than likely not from me because I don't do anything."
In the faux statement posted on NBC's web site, Reckell reportedly stated that he was being forced to take a few weeks off from the show because he was over the guarantee in his contract -- the maximum number of episodes he can appear in before having to be paid "overtime." Though the statement correctly stated the facts, the statement was not from Reckell.

RELATED STORYPeter Reckell to be off-screen for a month.

Photo: Mitchell Haaseth/NBC
---