MORE PHILLY INTERVIEWS:
Choose an interview from below

Shawn Christian (Daniel Jonas)
Mark Hapka (Nathan Horton)
Jay Kenneth Johnson (Phillip Kiriakis)
Eric Martsolf (Brady Black)
Arianne Zucker (Nicole Walker)


Five of daytime's biggest stars recently took time away from the glitz and glamour of Hollywood to travel to Philadelphia to help make a difference in the lives of two deserving families. On October 9, NBC's Days of our Lives partnered with Habitat for Humanity to help build two homes at the organization's newest project, located just off Girard Avenue in West Philadelphia.
DAYS heartthrobs Shawn Christian (Daniel Jonas), Mark Hapka (Nathan Horton), and Jay Kenneth Johnson (Phillip Kiraikis) were joined at the home site by Pennsylvania native Eric Martsolf (Brady Black) and Emmy-nominated Arianne Zucker (Nicole Walker), who also serves as Days of our Lives' official Habitat representative. Their goal was to help raise awareness about the need for affordable housing in and around Philadelphia.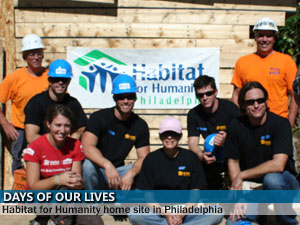 "This is my second build," Zucker stated. "And it's incredible just to see areas develop and change and grow for proactive reasons... people wanting to make a difference in their lives and finding ways to do it. And the fact that there is Habitat for Humanity to do it with is really an unbelievably huge blessing in people's lives. I know for myself, I wanted to do something bigger. Coming here to Philly -- not just to come and sign autographs -- but to physically help somebody else. That's really why we're here in the Philadelphia area. And we'll definitely be back to do more."
It is a widely held misconception that the families receiving new homes from Habitat for Humanity are simply given the homes with no questions asked. That, however, is not the case. In addition to having to meet financial guidelines, including the ability to pay the mortgages on the new homes, all families must work on building the homes.
"Our partner families invest 350 sweat equity hours [in the construction of Habitat homes] as their down payment," Frank Monaghan, the Executive Director of Habitat for Humanity Philadelphia, told Soap Central.
In addition to volunteering their time with Habitat, prospective partner families must meet financial requirements, and they are responsible for monthly mortgage payments and the upkeep of their homes.
"In the end, they will purchase the house with no interest from Habitat, so that's the real savings," Monaghan added.
The five Days of our Lives cast members did more than just loan their star power as the faces of the Philly build. They also contributed manpower.
"I sort of enjoy building, so part of the joy for me is taking something like we've got here -- a piece of land -- and building something out of nothing and doing some good," Christian said of the project. "And I talked to one of the women who is going to live in this house, and I don't think that she's stopped smiling."
"Some of it just takes brute strength and I don't have it, but I enjoy it, and it's still an art even though it's building," added Zucker. "You've gotta deal with shapes and whatnot. Still being in the creative world, I enjoy it. It's like a giant, GIANT birdhouse. It's awesome."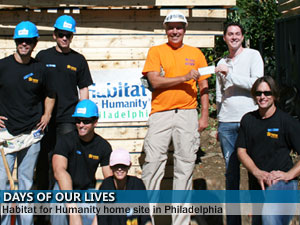 Construction began in September on the two new energy-efficient, four-bedroom houses. The homes are scheduled to be completed by spring 2011, with each home costing approximately $150,000.
Every monetary donation -- both big and small -- is put to good use by Habitat. A donation of $10 can purchase a box of nails, $35 makes it possible for volunteers to buy hammers, and $1500 pays for the interior and exterior painting on a Habitat home. To learn how you can make a donation to Habitat for Humanity, please click here.
As part of Soap Central's 15th anniversary celebration and the company's continued commitment to making a difference in communities across the country, Philadelphia-based Soap Central founder, Dan J Kroll, presented Habitat for Humanity with a donation to help the organization continue its mission to provide housing to deserving families.
EXCLUSIVE INTERVIEWS

Arianne Zucker (Nicole Walker) discusses how she uses her celebrity to help make a difference, and compares volunteering to Habitat for Humanity to constructing a "giant birdhouse." | Click to read the interview with Arianne

Shawn Christian (Daniel Jonas) discusses how the Habitat build appealed to his curious side, and DAYS new high-definition format | Click to read the interview with Arianne

Look for exclusive interviews with Eric Martsolf, Jay Kenneth Johnson, and Mark Hapka to be posted soon!