As previously reported by Soap Central in December, Arianne Zuker (Nicole Walker) is not leaving Days of our Lives. Now comes word that the actress has inked a new two-year contract with the show.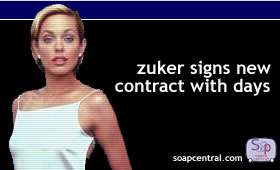 "I am thrilled to have the opportunity to continue the role of Nicole with NBC and Corday Productions," Zuker said in a statement.
Last fall, Internet rumors hinted that Zuker's character would fall victim to the serial killer stalking the fictional town of Salem. Though networks usually do not issue statements involving internet speculation and gossip, a spokesperson for DAYS almost immediately issued a statement denying Zuker was leaving. At the time, the spokesperson, while miffed that rumors were again dogging the show, did seem pleased that the serial killer storyline had people talking.
So what's ahead of Zuker now that she's signed a new contract?
"Nicole has a lot of surprises up her sleeve," Zuker teased. "Hang on for a bumpy ride."
Zuker joined Days of our Lives in 1998. She is married to her DAYS co-star, Kyle Lowder (Brady Black).