There are a host of Days of our Lives casting changes coming in the next few weeks. Because there are so many, some fans may feel like they've suffered whiplash as characters whiz in and out of the show's storylines.
Rhasaan Orange (Tek Kramer) has been taken off contract. The actor joined the cast in July 2003.
Newcomer Ashley Benson has been cast in the role of Abby Deveraux. DAYS execs decided to "age" the character and previous actress Jillian Clare was dismissed from the role. Benson had a small role in the motion picture "13 Going On 30m" in addition to a handful of guest spots on primetime series.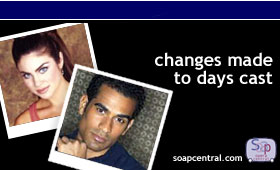 Days of our Lives have wooed back Nadia Bjorlin (Chloe Lane) for a return engagement in December. DAYS scribes were already working on breakdown scripts that included Chloe in the show's storylines before the actress had even agreed to a return. Also returning will be Patrika Darbo (Nancy Wesley). Bjorlin first airs on December 3rd and will appear on a recurring basis for an unspecified period of time. As for Darbo, setside sources say that the actress may only be seen in one or two episodes.
Meanwhile, there is contract news for two popular veteran stars. Both Lauren Koslow (Kate Roberts) and Drake Hogestyn (John Black) will be sticking around. For more details on their new contracts, click here.

RELATED STORYKoslow, Hogestyn sign new contracts; Orange out.

Photo: NBC