It has all the makings of a great soap opera script: behind-the-scenes plotting and turmoil, the return of a big name talent and the threat of imminent demise. While some fans argue that this is the type of story that Days of our Lives needs to boost itself out of the ratings doldrums, this isn't a work of fiction. According to published reports and behind-the-scenes whispering, there may be some major shakeups at Days of our Lives.
Earlier this week in the industry publication, Variety, reported that Days of our Lives head writer James E. Reilly could soon be out as the show's top scribe. The report comes as hints have been dropped for months that one of daytime's head writers would soon find themselves written out. For some, news of the veteran writer's possible departure comes as a surprise. For several weeks, the consensus among insiders had been that One Life to Live's head writer and former DAYS top scribe, Dena Higley, might be booted from her position at ABC.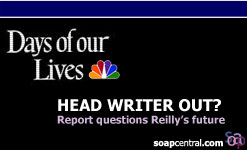 Reilly has pulled DAYS back from the brink several times. His return as head writer in 2003 sparked a great deal of buzz. A subsequent serial killer storyline was the talk of the soap world, but fans were critical of the way the storyline was resolved. In the midst of unstable ratings - the show's ratings often rise and fall as much as three-tenths of a point in a single week - Days of our Lives has also been repeatedly passed over for Daytime Emmy nominations.
If the buzz is to be believed, NBC has approached Emmy-winner former As the World Turns head writer Hogan Sheffer as a possible successor to Reilly. Sheffer joined the As the World Turns writing team as head writer in June 2000 and is credited with turning the show around. His work as head writer resulted in three Daytime Emmys for Outstanding Writing Team for the CBS soap.
The news is not all bad for Reilly. NBC announced last week that he would continue on as head writer of Passions. The struggling soap was renewed for an eighth season.
NBC does not comment on rumors. No official statement has been made about DAYS' future on NBC.

RELATED STORYReilly to continue on as Passions' head writer.