What is your reaction to the news that GH has recast the role of Maxie?

I'm very upset. Richards has been great as Maxie for years.
39%
Maxie has bored me lately. Maybe this will create a spark.
17%
This is great. I'm a huge fan of Kirsten Storms.
17%
I'm torn. I'll miss Richards, but I'm a Storms fans too.
11%
I'm indifferent to the news that Maxie has been recast.
9%
I am not familiar with Storms, but I will give her a chance.
5%
Other
2%
Poll Posted: March 23rd, 2005
A General Hospital recast has some fans of
Days of our Lives
steaming. The ABC soap revealed that former DAYS starlet
Kirsten Storms
(ex-
Belle Black
) will replace
Robyn Richards
as
Maxie Jones
. Rumors that General Hospital was toying with the idea of recasting the role of Maxie have been circulating for several months.
In a statement on her official web site, Richards revealed that the news of her dismissal was not entirely unexpected.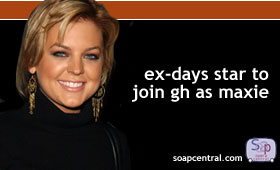 "I received a call from [agent] Michael Bruno confirming the news that Maxie was being recast," Richards said. "Although my initial reaction was a feeling of shock, deep down inside, I really was not surprised. It seems as if this day has been waiting to come ever since I went back to the show three years ago; things had never been the same since."
Robyn Richards' has had a tumultuous ride with General Hospital over the past few years. Richards assumed the role of Maxie in 1993. At the time, she became the first "grown" child to tackle the role. Previously, Maxie has been played by infant twins.
In 2002, Richards' stay with General Hospital was abruptly cut short when show execs decided to "age" the character of Maxie. Richards was released from her contract and the then-teenage Maxie suddenly became a 20-year-old. A few months later, however, fan outcry prompted ABC to bring Richards back to the show.
Storms exited her role on NBC's Days of Our Lives in July 2004 for a role on the primetime series. "The Clubhouse." CBS cancelled the show after just a handful of airings due to poor ratings. "The Clubhouse" was one of the first casualties of the 2004-2005 television season.
Shortly after the cancellation of Storms' primetime gig, DAYS fans began clamoring to have the wildly popular actress return to the show. At the time, a DAYS spokesperson remarked that the show was popular with the work of newly-cast Martha Madison and that there were no plans to bring Storms back to the show.
"I am and have always been a huge fan of GH," Storms said in a statement. "I'm thrilled to be working on a show with a great cast and quality writing, especially for the younger characters. I am very excited to join all of these amazing people during this next chapter in my career."
Ironically, Richards reportedly tried out for Storms' former DAYS role. Shortly after Storms exit from DAYS in July 2004, Richards was one of the leading candidates to take over the role of Belle. The role, however, ultimately went to Charity Rahmer. Rahmer's stay with Days of our Lives turned out to be very short lived; the actress was replaced by the time her pre-taped episodes hit the airwaves.
In reflecting back on her time at General Hospital, Richards admitted to becoming emotional while watching some of her old work and talked of the co-stars that she had come to consider great friends.
"Once Maxie had been given back to her mother, I had made a huge bond with Kristina Wagner [Felicia], whom I love dearly, and truly consider a real mom," Richards reflected. "I also remember my fun times with Leslie Charleson [Monica] playing Chinese jump rope in her dressing room. And my mom always reminds me of the time in hair and make-up when I asked 'Who are you?' to Genie Francis [ex-Laura]; how embarrassing! If only I had known at that time how big of a soap legend she is. John J. York [Mac], Kin Shriner [ex-Scott], Jackie Zeman [Bobbie], and Brad Maule [Tony] will always hold a special spot in my heart- they have always been awesome throughout my journey on the show. I will miss everyone dearly, and I wish them all the best! "
Richards made her last on-screen appearance on July 16, 2004. Storms is slated to make her first General Hospital appearance in late-May.